Editorial: Academics, programmes, and methodologies for fostering students' competences
Luigi F. Donà dalle Rose

University of Padova, Italy

Anna Serbati

University of Padova, Italy
Abstract
The title of the present Issue is Academics, programmes, and methodologies for fostering students' competences. The focus is again "fostering students' competences", but – given the complexity of higher education systems – "fostering" may best occur if the several involved actors are accordingly prepared and if the many intermediate steps are properly taken care of. In other terms, as we all know, the winds of innovation may follow quite different paths for new implementations and actual improvements, according to local situations, country- and time- priorities and according to the good will of actors. Indeed, the present Issue starts with the assessment made among some U.S. history academics on the impact of the paradigm shift in teaching and learning brought about by the Tuning and other projects. Next, a quite comprehensive overview of the innovative changes occurring in the field Engineering Education in China in recent years is presented (a most important step at discipline and programme level). The following article deals with the challenge of measuring with a compact operational tool the quality of a degree programme and at the same time the quality of its component units (an innovative step for programme planners and evaluators, carried out in Japan). Then, an experience aimed at re-designing a fourth year of the Bachelor of Education in a South African university on the basis of a constructive alignment methodology is described (again a step at programme planners level). The conclusive article in this issue is quite different from the others and deals with the possible global role to be played by universities as institutions for research, education and any other third mission, in our quickly changing world. We hope that the fundamentals extensively described in this paper may start a fruitful debate among readers and potential future authors.
Published online: 29 November 2018
Downloads
Download data is not yet available.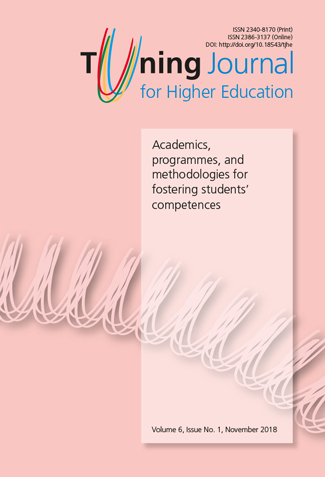 How to Cite
Donà dalle Rose, Luigi F., and Anna Serbati. 2018. "Editorial: Academics, Programmes, and Methodologies for Fostering students' Competences". Tuning Journal for Higher Education 6 (1), 13-17. https://doi.org/10.18543/tjhe-6(1)-2018pp13-17.
Authors are required to sign and submit a copyright transfer agreement after acceptance but before publication of their manuscript. To that effect, they receive, from the Managing Editor of Tuning Journal for Higher Education, a standard copyright assignment form designed along the following lines:
1. Authorship:
The author who signs the copyright transfer agreement must be the sole creator of the work or legally acting on behalf of and with the full agreement of all the contributing authors.
2. Copyright and Code of conduct:
a) Authors warrant that their work is original; has not been previously copyrighted or published in any form; is not under consideration for publication elsewhere; its submission and publication do not violate TJHE Ethical Guidelines for Publication and any codes (of conduct), privacy and confidentiality agreements, laws or any rights of any third party; and no publication payment by the Publisher (University of Deusto) is required.
b) Authors are solely liable for the consequences that may arise from third parties' complaints about the submitted manuscript and its publication in Tuning Journal for Higher Education (TJHE).
c) Authors grant to the Publisher the worldwide, sub-licensable, and royalty-free right to exploit the work in all forms and media of expression, now known or developed in the future, for educational and scholarly purposes.
d) Authors retain the right to archive, present, display, distribute, develop, and republish their work (publisher's version) to progress their scientific career provided the original publication source (Tuning Journal) is acknowledged properly and in a way that does not suggest the Publisher endorses them or their use of the wortk.
e) Authors warrant that no permissions or licences of any kind will be granted that might infringe the rights granted to the Publisher.
3. Users:
Tuning Journal for Higher Education is an Open Access publication. Its content is free for full and immediate access, reading, search, download, distribution and reuse in any medium or format only for non-commercial purposes and in compliance with any applicable copyright legislation, without prior permission from the Publisher or the author(s). In any case, proper acknowledgement of the original publication source must be made and any changes to the original work must be indicated clearly and in a manner that does not suggest the author's and or Publisher's endorsement whatsoever. Any other use of its content in any medium or format, now known or developed in the future, requires prior written permission of the copyright holder.