Introduction
Mary Gobbi

University of Southampton, UK
Keywords:
professional competences, COVID-19, teacher education, budgeting, strategy, bibliometric review
Abstract
The papers in this Edition of the Journal comprise six 'general papers' and six in the COVID-19 section. Together, the papers clearly illustrate our theme Perspectives, stakeholders, and competences. While the papers comprising the general part of this Edition represent a diverse range of countries (Brazil, Iran, Spain, Turkey), there are some common themes. One cluster of papers is concerned with student outcomes or the professional competence of teacher trainees. The other cluster is interested in aspects of university strategy, whether financial or related to the university mission. The papers challenge us to consider the benefits of stakeholder engagement and multiple perspectives on policies, strategies, student or professional outcomes with their respective definitions, and specific educational interventions. Consequently, the methodologies and methods are appropriately diverse, involving bibliometric analysis, qualitative analysis (grounded theory, content, and textual analysis) the use of digital tools and statistics. From a theoretical lens, we encounter concepts such as parallax, historical and contemporary worldviews on education and the various philosophies on the nature of the university. Within a socio-political framework, we are introduced to the nuances of national government policies and their country-based impact that is shaped by local cultural traditions in education and attitude. Despite the range of topic, context and methods, each paper demonstrates a commitment to improving educational practice, research and student or staff experience.
Downloads
Download data is not yet available.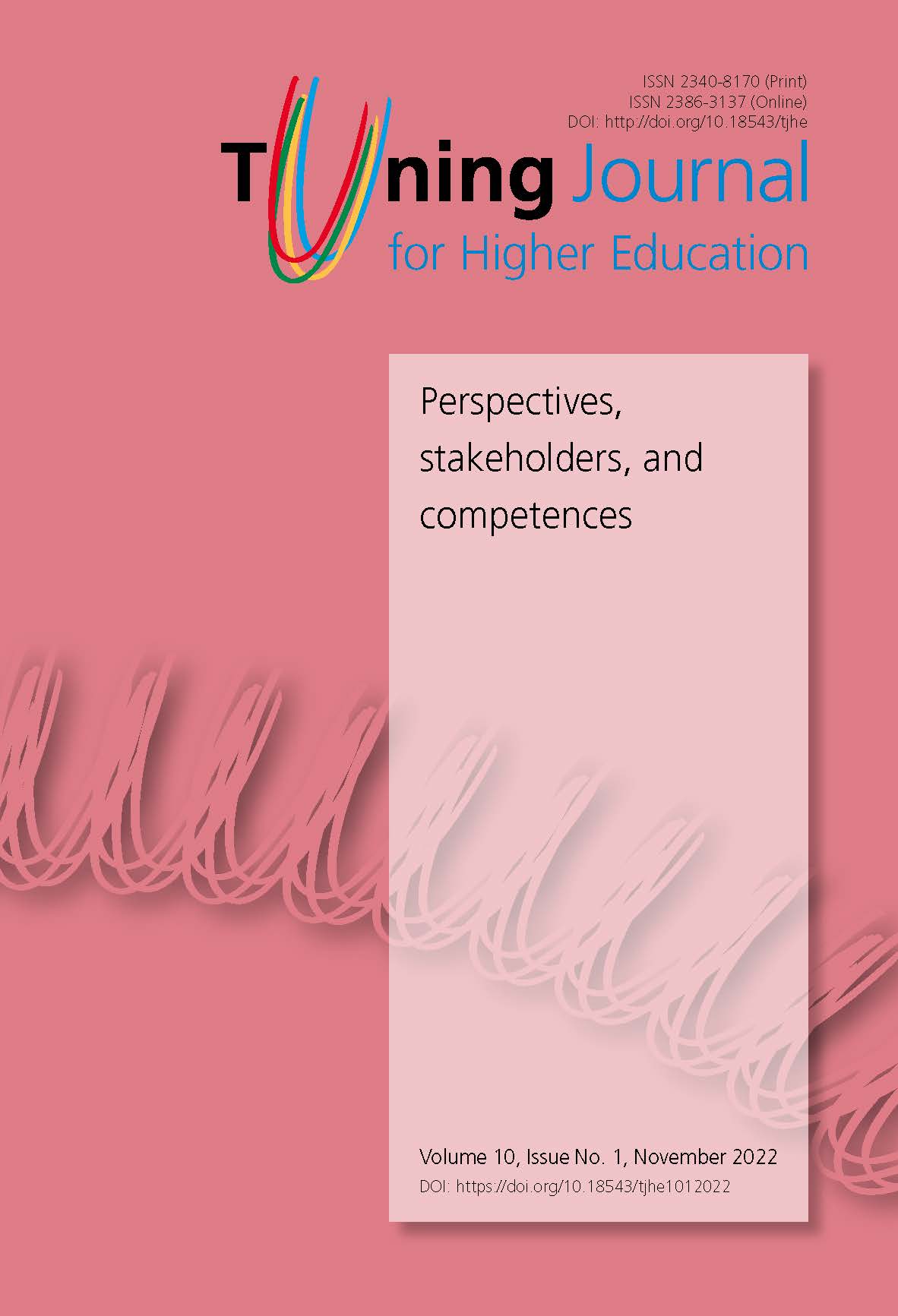 How to Cite
Gobbi, Mary. 2022. "Introduction". Tuning Journal for Higher Education 10 (1), 19-24. https://doi.org/10.18543/tjhe.2599.
Authors are required to sign and submit a copyright transfer agreement after acceptance but before publication of their manuscript. To that effect, they receive, from the Managing Editor of Tuning Journal for Higher Education, a standard copyright assignment form designed along the following lines:
1. Authorship:
The author who signs the copyright transfer agreement must be the sole creator of the work or legally acting on behalf of and with the full agreement of all the contributing authors.
2. Copyright and Code of conduct:
a) Authors warrant that their work is original; has not been previously copyrighted or published in any form; is not under consideration for publication elsewhere; its submission and publication do not violate TJHE Ethical Guidelines for Publication and any codes (of conduct), privacy and confidentiality agreements, laws or any rights of any third party; and no publication payment by the Publisher (University of Deusto) is required.
b) Authors are solely liable for the consequences that may arise from third parties' complaints about the submitted manuscript and its publication in Tuning Journal for Higher Education (TJHE).
c) Authors grant to the Publisher the worldwide, sub-licensable, and royalty-free right to exploit the work in all forms and media of expression, now known or developed in the future, for educational and scholarly purposes.
d) Authors retain the right to archive, present, display, distribute, develop, and republish their work (publisher's version) to progress their scientific career provided the original publication source (Tuning Journal) is acknowledged properly and in a way that does not suggest the Publisher endorses them or their use of the wortk.
e) Authors warrant that no permissions or licences of any kind will be granted that might infringe the rights granted to the Publisher.
3. Users:
Tuning Journal for Higher Education is an Open Access publication. Its content is free for full and immediate access, reading, search, download, distribution and reuse in any medium or format only for non-commercial purposes and in compliance with any applicable copyright legislation, without prior permission from the Publisher or the author(s). In any case, proper acknowledgement of the original publication source must be made and any changes to the original work must be indicated clearly and in a manner that does not suggest the author's and or Publisher's endorsement whatsoever. Any other use of its content in any medium or format, now known or developed in the future, requires prior written permission of the copyright holder.