Beyond performance-based budgeting policy in Iran's public universities: Causes, outcomes, and strategies
Zargham Faramarzi Nia

Shahid Chamran University of Ahvaz, Iran

Hamid Farhadi Rad

Shahid Chamran University of Ahvaz, Iran

Yadollah Mehralizadeh

Shahid Chamran University of Ahvaz, Iran

Rahmatullah Gholipour Soteh

University of Tehran, Iran
Keywords:
university, higher education, performance-based budgeting, performance indexes, performance management
Abstract
The main aim of the present study was to analyze the causes, outcomes, and strategies of performance-based budgeting in the Iranian higher education system. To this end, a qualitative approach based on the grounded theory was used. In order to collect reliable data, in-depth semi-structured interviews were conducted with two groups of experts who were selected by purposive sampling method based on the selection of desirable cases. After qualitative content analysis of the collected information via encoding, the detailed report preparation method and comparison with expert opinions were taken into account to validate the findings. At a significance level of 0.0001, the kappa measure of agreement was 0.786. The results showed that finding a suitable mechanism to ensure accountability and transparency in universities was the main focus of performance-based budgeting approach, and its implementation was affected by various factors at the macro level (government) and micro level (university). Positive outcomes of this budgeting model include improved accountability and transparency, project- oriented nature of the model, and improved efficiency and effectiveness. Besides, threat to the nature and independence of the university was possibly a negative consequence of this plan. To use the benefits simultaneously and avoid the negative consequences, various strategies were proposed, including the expansion of the authority, independence, and freedom of the university and the involvement of the university's senior managers.
Received: 10 March 2022
Accepted: 15 August 2022
Downloads
Download data is not yet available.
References
Alshehri, Yahya Mohammad. "Performance-Based Funding: History, Origins, Outcomes, and Obstacles." Journal of Higher Education Theory and Practice 16, no. 4 (2016): 45-56. http://www.digitalcommons.www.na-businesspress.com/JHETP/AlshehriYM_Web16_4_.pdf.
Alstadt, David, Eric Fingerhut and Richard Kazis. " Tying founding to community college outcomes." Jobs for the Future, Boston and Washington Dc. (April 2012): 1-40. https://files.eric.ed.gov/fulltext/ED537261.pdf.
Dougherty, Kevin J., Rebeca S. Natow, Rachel J. Hare, and Blanca E.Vega. "The Political Origins of State-Level Performance Funding for Higher Education: The Cases of Florida, Illinois, Missouri, South Carolina, Tennessee, and Washington." CCRC working paper, no. 22 (October 2010):1-101. https://ccrc.tc.columbia.edu/media/k2/attachments/state-levelperformance-funding-cases.pdf.
Dougherty Kevin J., Rebecca S. Natow, Sosanya M. Jones, Hana Lahr, Lara Pheatt and Vikash Reddy. "The Political Origins of Performance Funding 2.0 in Indiana, Ohio, and Tennessee: Theoretical Perspectives and Comparisons with Performance Funding 1.0." CCRC working paper, no. 68 (February 2014): 1-55. https://ccrc.tc.columbia.edu/publications/political-origins-performance-funding-2.html.
Dougherty, Kevin J. and Rebeca S. Natow. "The demise of higher education performance funding systems in three states." CCRC Working paper, no.17 (2009): 50-55. https://ccrc.tc.columbia.edu/publications/performance-funding-demise-three-states.html.
Dougherty Kevin J., Sosanya M. Jones, Hana Lahr, Rebecca S. Natow, Lara Pheatt, and Vikash Reddy. "The Policies of Performance Funding for Higher Education, Origins, Discontinuations and Transformation." (Johns Hopkins University Press; 1st edition (May 15, 2015).
Dougherty, Kevin J., and Vikash Reddy. "Performance funding for higher education: What are the mechanisms? What are the impacts?." ASHE Higher Education report 39, no. 2 (2013): 1-134. https://onlinelibrary.wiley.com/toc/15546306/2013/39/2.
Dougherty, Kevin J., and Rebecca S. Natow. "Analyzing Neoliberalism in Theory and Practice: The Case of Performance-Based Funding for Higher Education." Centre for Global Higher Education, Working paper, no. 44 (March 2019): 1-56. https://doi.org/10.7916/d8-a1kt-7p96ç.
Farhadi Rad, Hamid, Parsa Abdollah and Rajabi Elahe. "Employability of Iranian Engineering graduates: Influential factors, consequences and strategies." The Journal of Teaching and Learning for Graduate Employability 11, no. 1 (2020): 110-130. https://ojs.deakin.edu.au/index.php/jtlge/.
Harnisch, Thomas. "Performance-based Funding: A Re-Emerging Strategy in Public Higher Education Financing, American Association of State Colleges and Universities." A Higher Education Policy Brief. (June 2011): 44-65. http://www.aascu.org/uploadedFiles/AASCU/Content/Root/PolicyAndAdvocacy/PolicyPublications/Performance_Funding_AASCU_June2011.pdf.
Li, Amy Y., and Alice I.Kennedy. "Performance Funding Policy Effects on Community College Outcomes: Are Short-Term Certificates on the Rise?." Community College Review 46 no. 1 (2018): 3-39. https://doi.org/10.1177/0091552117743790.
McKeown-Moak, Mary. "The "The New Performance Funding in Higher Education." Educational Considerations 40, no.2 (2013): 1-11. https://doi.org/10.4148/0146-9282.1082.
Miao, Kysie. "Performance-Based Funding for higher education: A Detailed Look at Best Practices in 6 States." Center for American Progress. (August 2012): 1-12. https://www.americanprogress.org/article/performance-based-funding-of-higher-education/.
Mintrom, Michael, and Phillipa Norman. "Policy Entrepreneurship and Policy Change." Policy Studies Journal 37 no. 4 (2009): 649-667. https://doi.org/10.1111/j.1541-0072.2009.00329.x.
Neary, Christopher. "U.S. Higher education performance-based funding policy diffusion and its association with state political ideologies and state budgeting taxonomies." (PhD diss., Iowa State University, 2019). https://lib.dr.iastate.edu/etd/17065.
Opoczynski, Renata. "the creation of performance funding in Michigan: Partnership." Education Policy Analysis Archives 24, no. 122 (2016): 45-49. http://dx.doi.org/10.14507/epaa.24.2488.
Ortagus, Justin C., Robert Kelchen, Kelly Rosinger, and Nicholas Voorhees. "Performance-Based Funding in American Higher Education: A Systematic Synthesis of the Intended and Unintended Consequences." Educational Evaluation and Policy Analysis, 42, no.4 (2020): 520–550. https://doi.org/10.3102/0162373720953128.
Pheatt, Lara, Hana Lahr, Kevin J. Dougherty, Sosanya M. Jones, Rebecca S. Natow, and Vikash Reddy. "Obstacles to the Effective Implementation of Performance Funding: A Multi-State Cross-Case Analysis." New York: Columbia University, CCRC Working Paper, no. 77 (November 2014): 1-68. https://core.ac.uk/download/pdf/158157273.pdf.
Sabatier,p weible. "The advocacy coalition framework: Innovations and clarifications." in Theories of the Policy Process, ed. Paul A. Sabatier (London: Routledge, 2007).
Sanford, thomas and Hunter, james. "Impact of performance funding on retention and graduation rates." Educational Policy Analysis Archives 19, no.33 (2011): 1-27. https://doi.org/10.14507/epaa.v19n33.2011.
Strauss, Anselem L, and Juliet Corbin. "Basics of Qualitative Research: Grounded Theory Procedures and Techniques." London: Sage, Newbury Park, 1998.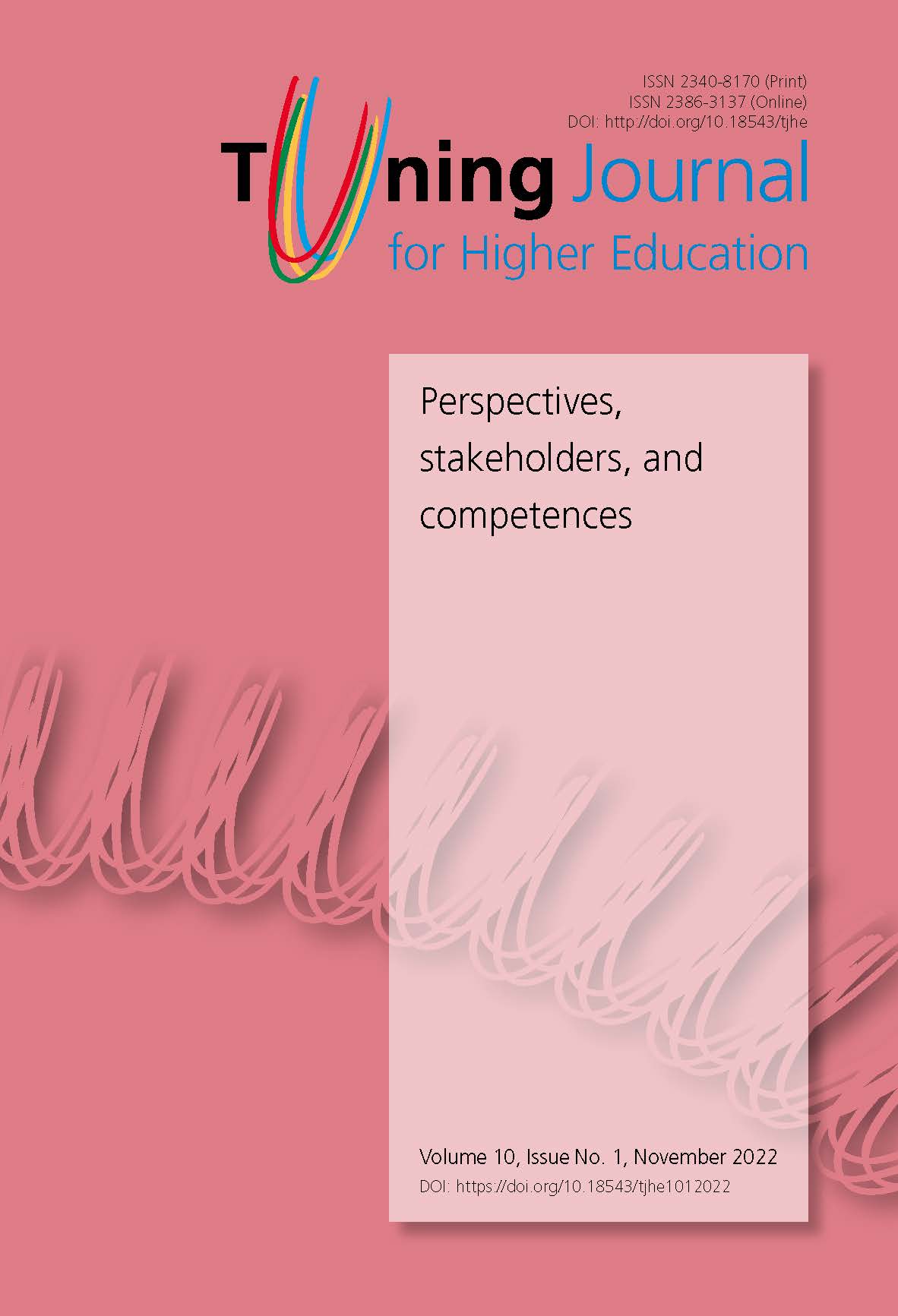 How to Cite
Faramarzi Nia, Zargham, Hamid Farhadi Rad, Yadollah Mehralizadeh, and Rahmatullah Gholipour Soteh. 2022. "Beyond Performance-Based Budgeting Policy in Iran's Public Universities: Causes, Outcomes, and Strategies". Tuning Journal for Higher Education 10 (1), 155-87. https://doi.org/10.18543/tjhe.2381.
Authors are required to sign and submit a copyright transfer agreement after acceptance but before publication of their manuscript. To that effect, they receive, from the Managing Editor of Tuning Journal for Higher Education, a standard copyright assignment form designed along the following lines:
1. Authorship:
The author who signs the copyright transfer agreement must be the sole creator of the work or legally acting on behalf of and with the full agreement of all the contributing authors.
2. Copyright and Code of conduct:
a) Authors warrant that their work is original; has not been previously copyrighted or published in any form; is not under consideration for publication elsewhere; its submission and publication do not violate TJHE Ethical Guidelines for Publication and any codes (of conduct), privacy and confidentiality agreements, laws or any rights of any third party; and no publication payment by the Publisher (University of Deusto) is required.
b) Authors are solely liable for the consequences that may arise from third parties' complaints about the submitted manuscript and its publication in Tuning Journal for Higher Education (TJHE).
c) Authors grant to the Publisher the worldwide, sub-licensable, and royalty-free right to exploit the work in all forms and media of expression, now known or developed in the future, for educational and scholarly purposes.
d) Authors retain the right to archive, present, display, distribute, develop, and republish their work (publisher's version) to progress their scientific career provided the original publication source (Tuning Journal) is acknowledged properly and in a way that does not suggest the Publisher endorses them or their use of the wortk.
e) Authors warrant that no permissions or licences of any kind will be granted that might infringe the rights granted to the Publisher.
3. Users:
Tuning Journal for Higher Education is an Open Access publication. Its content is free for full and immediate access, reading, search, download, distribution and reuse in any medium or format only for non-commercial purposes and in compliance with any applicable copyright legislation, without prior permission from the Publisher or the author(s). In any case, proper acknowledgement of the original publication source must be made and any changes to the original work must be indicated clearly and in a manner that does not suggest the author's and or Publisher's endorsement whatsoever. Any other use of its content in any medium or format, now known or developed in the future, requires prior written permission of the copyright holder.