University in an oil-dependent state economy: The future of Khuzestan higher education
Hamid Farhadi Rad

Shahid Chamran University of Ahvaz, Iran

Hasan Farazmand

Shahid Chamran University of Ahvaz, Iran

Morteza Afghah

Shahid Chamran University of Ahvaz, Iran

Yaghoob Andayesh

Shahid Chamran University of Ahvaz, Iran
Keywords:
higher education, developmental university, entrepreneurship, value creation, state-economy, Khuzestan province
Abstract
Purpose of the study: The understanding of the complex world and the ability to imagine the futures is the basis for planning and decision-making. Therefore, in this research, the possible future of university in an Iranian oil-dependent economy is studied, and, the best direction for higher education in Khuzestan province is explored. — Methodology: A formative scenario writing research method is used in the current study. The participants were recruited from among Iranian higher education experts purposefully; a series of in-depth interviews including personal and focus group interviews have also been conducted to reach saturation. —Main findings: The results of the present research showed that two main factors affect Khuzestan higher education: dependency on the state economy and increasingly growing social expectation from the university. Khuzestan universities have better select one of these orientations: Conservative University, Enabler University, Adaptive University, and Developmental University. According to the findings of the study, developmental orientation is the preferred scenario for Khuzestan higher education. — Applications of this study: It is argued that the developmental university is the preferred scenario for the future of higher education in Khuzestan Province and a proposal suggests its actualization. — Novelty/originality of this study: The applied scenario-based innovative research attempts to reveal the socio-economic role of universities in societies having State-Economy such as Iran, shows all the possible main paths, and finally determines the preferred path for a specific period of time. The current probe can be directly used to lead higher education policymakers of the province and be indirectly employed to help individuals adopt general orientations in higher education, as well as students and researchers who are interested in higher education studies, especially in the field of Higher Education (HE) public policymaking. Finally identified and explained the developmental university that is compatible with Khuzestan higher education situations is another novelty of this research.
Received: 29 March 2021
Accepted: 21 June 2021
Downloads
Download data is not yet available.
References
Akhilesh, K.B. Co-Creation and Learning Concepts and Cases. SpringerBriefs in Business, 2017.
Aldianto, Leo, Grisna Anggadwita, and Aang Noviyana Umbara. "Entrepreneurship education program as value creation: Empirical findings of universities in Bandung, Indonesia." Journal of Science and Technology Policy Management 9, no. 3 (2018): 296-309.
Amini, Mohammad Taghi, Mohammad mahdi Parhizgar, Mehran Rezvani, and Saeed Farjam. "Designing a Conceptual Model of Value Creating Entrepreneurship (Fourth Wave)." Modern Marketing Research 5, no. 1 (2015): 19-30.
Amiron, Evarina , Azlan Abdul Latib, and Kamalularifin Subari. "Industry Revolution 4.0 Skills and Enablers in Technical and Vocational Education and Training Curriculum." International Journal of Recent Technology and Engineering (IJRTE) 8, no. 1 (2019): 485-492.
Arasteh, Hamid Reza, and Elham Amiri. "The Role of Universities in Sustainable Development Education." Journal of Transplanting Science (Nasha-e- Elm) 2, no. 2 (2012): 29-36.
Azizi, Mohammad. "Analytical-Comparative Study of the Performance of Top Entrepreneurship Centers of American Universities and Entrepreneurship Centers of Selected Iranian Universities." Journal of Innovation and Value Creation 4, no. 8 (2016): 21-32.
Azizi, Mohammad, and Ehsan Shafizadeh. Entrepreneurial University: Necessity, Features and Requirements. Tehran: Islamic Parliament Research Center Of The Islamic Republic Of IRAN, 2013, 3.
Azmi, A Janwa, Yusri Kamin , M Khair Noordin , and A Nabil Nasir . "Department of Technical and Engineering Education, Faculty of Education, Universiti Teknologi Malaysia, 81310 UTM Skudai, Johor Bahru, Johor, Malaysia." International Journal of Engineering & Technology 7, no. 28 (2018): 267-272.
Barabadi, Abolghasem, malek Mohammadi, and Ali Asadi. "Educational, social and cultural barriers to employment of agricultural graduates." Economics,labor and society no.109(2009): 92-100.
Bell, Les, Mike Neary, and Howard Stevenson. The Future of higher education: policy, pedagogy and student experiences. Translated by Jalil Karimi, & Peyman Karimi. 2009.
Brieger, Steven, Anne Baro, Giuseppe Criaco, and Siri Terjesen. "Entrepreneurs' age, institutions, and social value creation goals: A multi-country study." Small Bus Econ, 2020.
Burguete, Jose L V, Carlota Lopez A, and Ana Lanero. "Are students aware of university social responsibility? Some insights from a survey in a Spanish university." International Review on Public and Nonprofit Marketing, no. 11 (2014): 195-208.
Carayannis, Elias G, and David F.J Campbell. "Triple Helix, Quadruple Helix And Quintuple Helix And How Do Knowledge, Innovation And The Environment Relate To Each Other?: A Proposed Framework For A Trans-Disciplinary Analysis Of Sustainable Development And Social Ecology." International Journal of Social Ecology and Sustainable Development 1, no. 1 (2010).
Castro , May Portuguez , Carlos Ross Scheede , and Marcela Georgina Gómez Zermeno. "The Impact of Higher Education on Entrepreneurship and the Innovation Ecosystem: A Case Study in Mexico." Sustainability 11, no. 20 (2019): 1-17.
Chemi, Tatiana, and Lone Krogh. Co-creation in Higher Education: Students and Educators Preparing Creatively and Collaboratively to the Challenge of the Future. Vol. 6. Aalborg : Aalborg University, 2017.
Chen, Shu-Hsiang, Jaitip Nasongkhla, and Ana Donaldson. "University Social Responsibility (USR): Identifying an Ethical Foundation within Higher Education Institutions." The Turkish Online Journal of Educational Technology 14, no. 4 (2015): 164-172.
Clark, Burton. "The Entrepreneurial University: New Foundations for Collegiality, Autonomy, and Achievement." Higher Education Management 13, no. 2 (2004): 23-36.
Dalmarco, Gustavo, Willem Hulsink, and Guilherme Blois. "Creating entrepreneurial universities in an emerging economy: Evidence from Brazil." Technological Forecasting and Social Change, Elsevier 135, no. C (2018): 99-111.
Datzberger, Simone. "Peacebuilding through non-formal education programs: a case study from Karamoja, Uganda." International Peacekeeping 24, no. 2 (2017): 326-349.
Emadzadeh, Mostafa. Economics of Education. 30. Esfahan: Jahad Daneshgahi, 2016.
Engwall , Lars. Missions of Universities Past, Present, Future. Vol. 55. Oslo, Norway: Springer, 2020.
Estrin, Saul, Tomasz Mickiewicz, and Stephan Ute. "Human capital in social and commercial entrepreneurship." Journal of Business Venturing 31 (2016): 449-467.
Etzkowitz, Henry, and Loet Leydesdorff. "The transformation of university-industry-government relations." Electronic journal of Sociology 5 , no. 4 (2001): 101-117.
Fahey, Liam, and Robert M Randall. Learning from the Future: Competitive Foresight Scenarios. Wiley, 1998.
Farhadi rad, Hamid, Abdollah Parsa, and Elaheh Rajabi. "Employability of Iranian Engineering graduates: Influential factors, consequences and strategies." The Journal of Teaching and Learning for Graduate Employability (Deakin University of Australia) 11, no. 1 (2020): 110-130.
Farhadi Rad, Hamid, Sakineh Shahi, and Forogh Tahmasebi. "An investigation into the requirements and circumstances of decentralization in Ahvaz education: viewpoint, leadership and human resource." Journal of new approaches in educational administration 10, no. 38 (2019): 57-76.
Ferasatkhah, Maghsoud. University History in Iran. Tehran, Iran: . Tehran: Institute for Cultural and Social Affairs of the Ministry of Science, Research and Technology, 2017.
Fereidouni, Somayeh. Social implications for the quantitative development of higher education; grounded Theory. Tehran: Institution for research and planning in Higher education, 2018.
Feyz, Mehdi. Identifying the desired professional qualifications of engineering graduates in iran:sharif university of technology graduates. shahid beheshti university, 2010.
Galvin, Robert. "Science Roadmaps." Science 280, no. 5365 (1998): 803-803.
Ghalandari, Mohammad Ali. Entrepreneurship University indicators (Case Study): Shahid Chamran University Ahvaz, Iran. Master Thesis, Education, Ahvaz: Shahid Chamran University Of Ahvaz, 2010.
Ghanbari, Ali. University in regional context: Isfahan university. Tehran: Social and cultural Research center, 2017.
Ghaneirad, Mohammad Amin. "Uneven development of higher education: Unemployment of graduates and migration." Social Welfare Quarterly 4, no. 15 (2005).
Gibb, Allan, Gay Haskins, and Ian Robertson. Leading the entrepreneurial university: Meeting the entrepreneurial development needs of higher education institutions. Said Business School, University of Oxford, 2009, 1-44.
Hajipoor, Ebrahim, Lotfollah Frouzandeh, Hasan Danaee Fard, and Asghar Fani. "Designing a Pathological Pattern for Public Policy Implementation in Iran." Military Management Quarterly 15, no. 28 (2015): 1-23.
Halberstadt, Jantje , Jana-Michaela Timm, Sascha Kraus, and Katherine Gundolf. "Skills and knowledge management in higher education: how service learning can contribute to social entrepreneurial competence development." Journal of Knowledge Management 23, no. 10 (2019): 1925-1948.
Hasani, Sayed Ghasem. University and Regional Development: Mazandaran University. Tehran: Institute for Cultural and Social Studies, Ministry of Science and Technology., 2017.
Herman, Jerry J, and Janice L Herman. Making Change Happen: Practical Planning for School Leaders (First ed.). California: Corwin Press, 1993.
Hoseini Moghadam, Mohammad. Iranaian University in the international Environment: Internationalization of Iranian Higher education and future of university in Iran. Tehran: Research Center for Social-Cultural Studies, 2017.
Institute for Research and planning in Higher Education. 2019. https://irphe.ac.ir/content/1921/.
Jiao, Hao. "A conceptual model for social entrepreneurship directed toward social impact on society." Social Enterprise Journal 7, no. 2 (2011): 130-149.
Josvisin, Palmyra, Trans McLaughlin, David Bridge, Roberta Josvisius, and Julant Stankovisius. Higher Education and National Development: Universities and transitional societies. Translated by Reza Simbar. Tehran: Cultural and Social Studies Research Institute, 2011.
Keramat Zadeh, Abdolmajid . "The Role of Cognitive Metaphors in FS: An Analysis of Sohail Inayatallh's Viewpoints." Journal of Iran Futures Studies 1, no. 1 (2016): 15-32.
Khadem Alizadeh, Amir, Hamideh Amadeh, and Mahboobeh Baghalian. "The imoact of economic sanctions on employment in Iran." Economic Strategy (Strategic Research Institute) 11, no. 3 (2014): 79-104.
Khosravi, Mahboobeh, Kourosh Fathi Vajavgah, Hasan Maleki, and Daryoush Nouroozi. "Investigating the Adoption of Curriculum Innovations in Higher Education System (Case Study: Curriculum Revision Code of Iranian Universities)." Journal of Educational Psychology 9, no. 27 (2013): 135-166.
Kostoff, Ronald, and Robert Schaller. "Science and technology roadmaps." IEEE Transactions on Engineering Management 48, no. 2 (2001): 132-143.
Kroger, John. LEADERSHIP IN HIGHER EDUCATION. may 26, 2020. https://www.insidehighered.com/blogs/leadership-higher-education/10-predictions-higher-education%E2%80%99s-future.
Maknoun, Reza. "Country higher education employment and development strategy." Proceedings of the Strategic Congress of Scientific Development of Iran, Ministry of Science, Research and Technology. ran science promotion headquarters 1400, 2001.
Memarian, Hossein. "Mechanism for evaluating engineering education programs: from ideal to reality." Fifth Conference "Quality Assessment in the University System" - University of Tehran - Campus of Technical Colleges. Tehran: University of Tehran, 2011.
Moein, Mostafa. Higher Education Policy and Development. Tehran: Institute for Cultural and Social Studies, Ministry of Science and Technology., 2018.
Mohammad Shafi, Mahboubeh, Mohammad Reza Neyestany, Ebrahim Jafar, and Vida Taghvaei. "Evaluating the Quality of the Curriculum in Skills Training." New Educational Approaches 15, no. 31 (2020): 70-102.
Momeni Mahmoei, Hossein, Ali SHariatmadari, and Ezatullah Naderi. "Competency-based curriculum in higher education." quarterly Educational, 2008: 5(17), 129-156.
Montazer, Gholam Ali, and Negar Falahati. "Scenario writing for the future of Iranian higher education and the application of information technology in it." Jouranl Of Science and Technology Policy (JSTP) 7, no. 1 (2015): 47-68.
Mousavi, Seyed Hossein, Ebrahim Salehi Omran, Maghsoud Ferasatkhah, and Jafar Towfiqi. "Presenting the development model of Entrepreneur University in Iran." Quarterly Journal of Engineering Education in Iran 19, no. 76 (2017): 1-28.
Mousavi, Seyyed Hossein, Ibrahi, Salehi Omran, Seyyed mahsa Mousavi, and Maghsoud Ferasatkhah. "Identifying the Barriers to Entrepreneurial University Ecosystem Development." Journal of Teaching in Marine Sciences 6, no. 4 (2019): 35-51.
Nabipour, Iraj. "The Fifth Generation University: Based on the Quintuple Helix of Carayannis and Campbell." Iran South Medical Journal 23, no. 2 (2020): 165-194.
Naghavi, Seyaed Ali, and Hamed Falah. "Investigating the Relationship between University and Industry through an Entrepreneurial Approach. Paper presented at the, Babolsar: Taro." National Conference on Entrepreneurship and Knowledge-Based Business Management. Babolsar: North Tarod Research Institute, 2012.
Nozari, Hamzeh, and Alireza Karimi. "The role of formal and informal relations (social relations network) in the employment of students of Kharazmi University." Social walfare, 2017: 17(64),159-194.
Ogilvy, James, and Peter Schwartz. Plotting Your Scenarios. In L. Fahey & R. Randall (Eds.), Learning from the Future. Edited by L. Fahey & R. Randall. California: John Wiley & Sons, 1998.
Perkin, Harold. History of Universities. Vol. 18, in International Handbook of Higher Education, by Harold Perkin, Filip Altbach, & Jaems Forest. Dordrecht: Springer, 2007.
Peters, Guy, Giliberto Capano, Michael Howlett, Ishani Mukherjee, Meng-Hsuan Chou, and Pauline Ravinet. Designing for Policy Effectiveness: Defining and Understanding a Concept. Cambridge University Press, 2018.
Rahmani, Ramin, and Ali Nazari Tavakoli. "The challenges of the higher education system in relation to the employment of graduates." The first conference on employment and the countrys higher education system. Tehran: Tarbiat amodares university, 2003.
Renjen, Punit, and Sarah Brown. Preparing tomorrow's workforce for the Fourth Industrial Revolution | For business: A framework for action. Deloitte Global and the Global Business Coalition, 2018, 16.
Rubins, Ira. "Risks and Rewards of Academic Capitalism and the Effects of Presidential Leadership in the Entrepreneurial University." Perspectives in Public Affairs, 2007: 3-18.
Salehi O, Ebrahim, and Hosein Chaharbashlou. "Studying University-Industry Relations in Iran: A Comparative Study Based on Successful Countries' Experiences." First International Conference on Management, Futures, Entrepreneurship and Industry in Higher Ed. Sanandaj: Kordestan University, 2011. 15.
Sam, Chanphirun, and Peter van der Sijde. "Understanding the concept of the entrepreneurial university from the perspective of higher education models." Higher Education 68, no. 6 (2014): 891-908.
Samari, Eisa, Mohammad Yamani Dozi Sarkhabi, Ebrahim Salehi Omran, and golam Reza Geraei Nezhad. "Investigating and identifying the effective factors in the process of "university development" in Iranian public universities." Educational planning syudies 2, no. 4 (2014): 67-100.
Sarv, Mohammad Soheil, Jafar Hezarjeribi, Mohammad Taghi Karami Ghahi, and Ardashir Entezari. "The Ratio of Higher Education Development Policies and School Demand." Social development and walfre planning 11, no. 41 (2020): 33-72.
Secretariat of the Board of Supervision, Evaluation and, Quality Assurance of the University in Khuzestan. 5 3, 2020. http://scu.ac.ir/web/nezaratostan.
Shahid Chamran University of Ahvaz. 5 3, 2020. http://scu.ac.ir/.
Sharifi A. M., Fatemeh, Abasalt Khorasani, Kourosh Fathi V., and Ebrahim Salehi O. "Employability skills of Academic Graduates: an Exploratory Mixed Approach." Journal of Theory & Practice in Curriculum 13, no. 7 (2019): 29-52.
Swanger, Dustin. July 2018. https://www.fmcc.edu/about/files/2018/08/The-Future-of-Higher-Education-in-the-US2.pdf.
Tindemans, Bruno , and Vickie Dekocker. "The Learning Society." OECD.org. September 2020. https://www.oecd.org/publications/oecd-skills-strategy-flanders-9789264309791-en.htm.
UNESCO. Higher education in Europe: Thematic reflections on higher education. Vol. 29. 2004.
UNESCO. Rethinking Education towards a golobal common good. United Nations Educational, Scientific and Cultural Organization, 2015.
Wilson, Patricia. "Embracing Locality in Local Economic Development." Urban Studies 32, no. 4-5 (1995): 645-658.
Yaghoubi, Mahmoud, and Hossein Motahharenejad. "The main requirements in developing Iranian engineering training strategies." Iranian of engineering education, 2011: 13(51),31-51.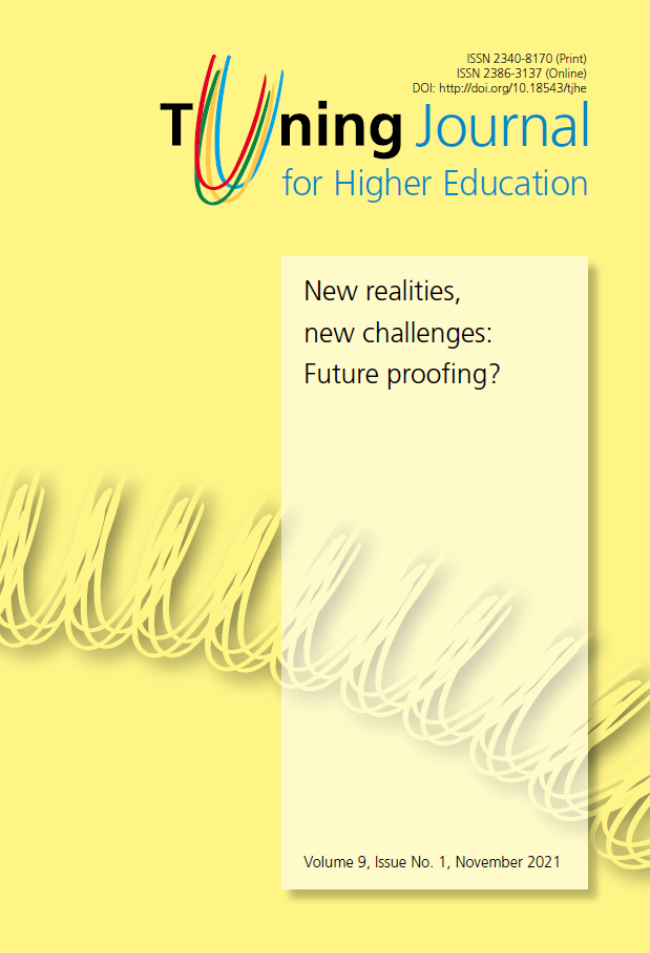 How to Cite
Farhadi Rad, Hamid, Hasan Farazmand, Morteza Afghah, and Yaghoob Andayesh. 2021. "University in an Oil-Dependent State Economy: The Future of Khuzestan Higher Education". Tuning Journal for Higher Education 9 (1), 157-98. https://doi.org/10.18543/tjhe-9(1)-2021pp157-198.
Authors are required to sign and submit a copyright transfer agreement after acceptance but before publication of their manuscript. To that effect, they receive, from the Managing Editor of Tuning Journal for Higher Education, a standard copyright assignment form designed along the following lines:
1. Authorship:
The author who signs the copyright transfer agreement must be the sole creator of the work or legally acting on behalf of and with the full agreement of all the contributing authors.
2. Copyright and Code of conduct:
a) Authors warrant that their work is original; has not been previously copyrighted or published in any form; is not under consideration for publication elsewhere; its submission and publication do not violate TJHE Ethical Guidelines for Publication and any codes (of conduct), privacy and confidentiality agreements, laws or any rights of any third party; and no publication payment by the Publisher (University of Deusto) is required.
b) Authors are solely liable for the consequences that may arise from third parties' complaints about the submitted manuscript and its publication in Tuning Journal for Higher Education (TJHE).
c) Authors grant to the Publisher the worldwide, sub-licensable, and royalty-free right to exploit the work in all forms and media of expression, now known or developed in the future, for educational and scholarly purposes.
d) Authors retain the right to archive, present, display, distribute, develop, and republish their work (publisher's version) to progress their scientific career provided the original publication source (Tuning Journal) is acknowledged properly and in a way that does not suggest the Publisher endorses them or their use of the wortk.
e) Authors warrant that no permissions or licences of any kind will be granted that might infringe the rights granted to the Publisher.
3. Users:
Tuning Journal for Higher Education is an Open Access publication. Its content is free for full and immediate access, reading, search, download, distribution and reuse in any medium or format only for non-commercial purposes and in compliance with any applicable copyright legislation, without prior permission from the Publisher or the author(s). In any case, proper acknowledgement of the original publication source must be made and any changes to the original work must be indicated clearly and in a manner that does not suggest the author's and or Publisher's endorsement whatsoever. Any other use of its content in any medium or format, now known or developed in the future, requires prior written permission of the copyright holder.