Using the Internationally Recognized Frameworks of Nursing Competences to address the challenges of nurse refugees without documentation
Maria Cassar

University of Malta, Malta
Keywords:
nurse refugees, competences frameworks, nurse qualification, nursing shortage, Tuning
Abstract
Individuals seeking refuge in host countries is a global reality. Some of these individuals are qualified nurses. If, and when, the documents pertaining to a nurse qualification are not presented to the respective authorities of a host country, the challenges for these qualified nurses to secure registration and employment as nurses are numerous and often unsurmountable. Access to higher education opportunities is similarly compromised in the absence of relevant documents. This is happening against the backdrop of a widely reported global shortage of qualified nurses, and an extensive effort and investment to address this shortage in many countries. This paper explores the feasibility and appropriateness of applying internationally recognized frameworks of competences of nurses, to processes which seek to evaluate and verify the nurse training and qualification claimed by refugee nurses. The author seeks to determine whether such frameworks of nurse competences may effectively and efficiently contribute towards initiatives which are geared towards addressing the gap in (qualification) document availability, traceability, verification and reproduction of nurse refugees. A critical consideration of a few existent initiatives is presented in view of exploring, the identification of a tool which may enable a homogenous transnational approach which is consistent across salient parameters.
Received: 16 April 2020
Accepted: 31 August 2020
Downloads
Download data is not yet available.
References
Baumann, Andrea., J. Blythe, K. McIntosh, and A. Rheaume. Internationally Educated Nurses in Ontario . 2nd ed. Nursing Health Services Research Unit. Government of Ontario. Accessed March 22, 2018. https://fhs.mcmaster.ca/nhsru/documents/SeriesReport3InternationallyEducated NursesinOntarioMaximizingtheBrainGain.pdf.
Berry, John W. "Integration and Multiculturalism: Ways towards Social Solidarity." Papers on Social Representations 20, no. 1 (2011): 2–1.
BIBB (Federal Institute for Vocational Education and Training). "Recognition of foreign professional qualifications." Accessed February 16, 2017. https://www.google.de/search?s=true&q=site:www.bibb.de%20Qualification%20recognition.
Blythe, Jennifer, Andrea Baumann, Ann Rhéaume, and Karen McIntosh. "Nurse migration to Canada: Pathways and pitfalls of workforce integration." Journal of Transcultural Nursing 20, no. 2 (2009): 202–210.
Buerhaus, Peter I., David I. Auerbach, Douglas O. Staiger, and Ulrike Muench. "Projections of the long-term growth of the registered nurse workforce: A regional analysis." Nursing Economics 31, no. 1 (2013): 13-17.
Council of Europe. "Convention on the Recognition of Qualifications concerning Higher Education in the European Region." Accessed 3 April 2018. https://www.coe.int/en/web/conventions/full-list/-/conventions/treaty/165.
Council of Europe. "Imagine for a Second." Accessed April 1, 2017. https://www.coe.int/en/web/education/documentary-on-project-european-qualifications-passport-for-refugees.
Council of Europe. "New recommendation on recognition of qualification held by refugees." Accessed February 27, 2018. https://www.coe.int/en/web/education/-/new-recommendation-on-recognition-of-qualifications-held-by-refugees.
EAIE. "EQPR: From vision to reality." Accessed March 30, 2018. https://www.eaie.org/blog/european-qualifications-passport-refugees.html.
ENIC-NARIC. "Recognise qualifications held by refugees – guide for credential evaluators." Accessed March 23, 2018. http://www.enic-naric.net/recognise-qualifications-held-by-refugees.aspx.
European Commission. "Eurostat." Accessed March 2, 2018. http://ec.europa.eu/eurostat/search?p_auth=8Oe9bK8q&p_p_id=estatsearchportlet_WAR_estatsearchportlet&p_p_lifecycle=1&p_p_state=maximized&p_p_mode=view&_estatsearchportlet_WAR_estatsearchportlet_action=search&text=asylum+seekers.
Fohrbeck, Dorothea. "Recognition of foreign professional qualifications – the Federal Government's new Recognition Act." Berufsbildung in Wissenschaft und Praxis (Vocational Training in Research and Practice), Special Edition (2013): 9–13.
González, Julia, and Robert Wagenaar, eds. Tuning Educational Structures in Europe . Bilbao: University of Deusto, 2003.
Gonzalez, Luz, ed. Higher Education in Latin America: Reflections and Perspectives on Nursing . Bilbao: University of Deusto, 2014.
International Council of Nurses. "An implementation model for the ICN framework of competencies for the generalist nurse." Geneva: ICN - International Council of Nurses, 2003.
Marshall, Martin N. "The key informant technique." Family Practice 13, no. 1 (1996): 92–97.
NOKUT. "Nokut's qualification passport for refugees ." Accessed April 4, 2018. https://www.nokut.no/en/nyheter-2016/NOKUTs-Qualifications-Passport-for-Refugees/.
Saad Eswi, Abeer, ed. Reference Points for the Design and Delivery of Degree Programmes in Nursing . Bilbao: University of Deusto, 2016.
Stievano, Alessandro, R.Caruso, F. Pittella, A.F. Shaffer,G. Rocco, and J. Fairman. "Shaping nursing profession regulation through history – a systematic review." International Nursing Review 66, no.1 (2018): 17–29.
Swanborn, Peter. Case study research: What, why and how? London: Sage, 2010.
Tuning Academy. "Tuning Projects." Accessed February 22, 2018. http://tuningacademy.org/.
UNHCR. "UN Refugee Convention." Accessed March 6, 2018. http://www.unhcr.org/pages/49da0e466.html.
University of Northampton. "Test of Competence." Accessed May 19, 2018. https://www.northampton.ac.uk/about-us/services-and-facilities/nmc-test-of-competence/nursing-and-midwifery-council-eu-aptitude-test/.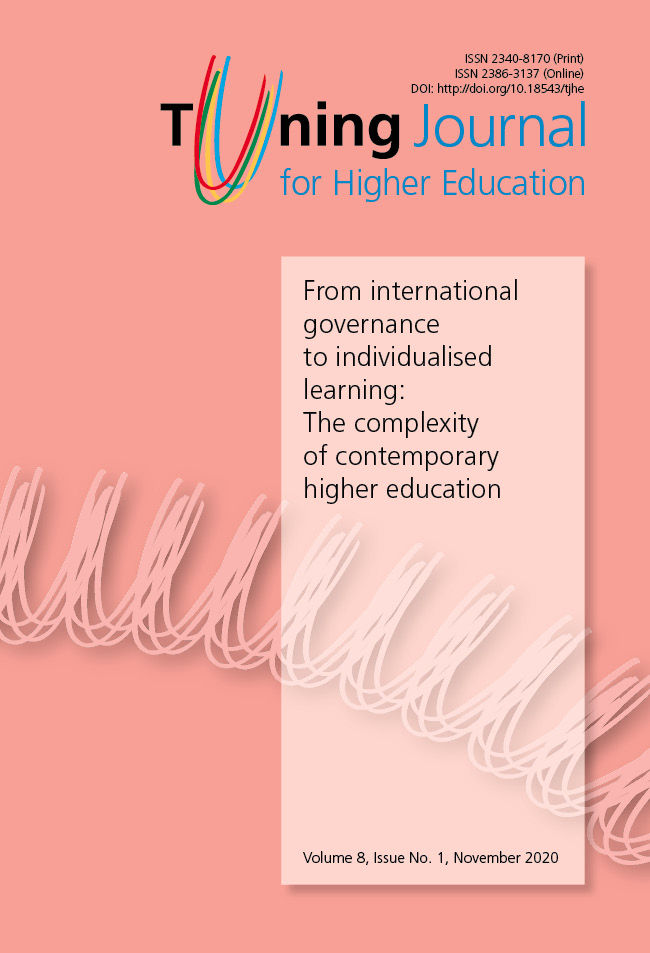 How to Cite
Cassar, Maria. 2020. "Using the Internationally Recognized Frameworks of Nursing Competences to Address the Challenges of Nurse Refugees Without Documentation". Tuning Journal for Higher Education 8 (1), 53-73. https://doi.org/10.18543/tjhe-8(1)-2020pp53-73.
Authors are required to sign and submit a copyright transfer agreement after acceptance but before publication of their manuscript. To that effect, they receive, from the Managing Editor of Tuning Journal for Higher Education, a standard copyright assignment form designed along the following lines:
1. Authorship:
The author who signs the copyright transfer agreement must be the sole creator of the work or legally acting on behalf of and with the full agreement of all the contributing authors.
2. Copyright and Code of conduct:
a) Authors warrant that their work is original; has not been previously copyrighted or published in any form; is not under consideration for publication elsewhere; its submission and publication do not violate TJHE Ethical Guidelines for Publication and any codes (of conduct), privacy and confidentiality agreements, laws or any rights of any third party; and no publication payment by the Publisher (University of Deusto) is required.
b) Authors are solely liable for the consequences that may arise from third parties' complaints about the submitted manuscript and its publication in Tuning Journal for Higher Education (TJHE).
c) Authors grant to the Publisher the worldwide, sub-licensable, and royalty-free right to exploit the work in all forms and media of expression, now known or developed in the future, for educational and scholarly purposes.
d) Authors retain the right to archive, present, display, distribute, develop, and republish their work (publisher's version) to progress their scientific career provided the original publication source (Tuning Journal) is acknowledged properly and in a way that does not suggest the Publisher endorses them or their use of the wortk.
e) Authors warrant that no permissions or licences of any kind will be granted that might infringe the rights granted to the Publisher.
3. Users:
Tuning Journal for Higher Education is an Open Access publication. Its content is free for full and immediate access, reading, search, download, distribution and reuse in any medium or format only for non-commercial purposes and in compliance with any applicable copyright legislation, without prior permission from the Publisher or the author(s). In any case, proper acknowledgement of the original publication source must be made and any changes to the original work must be indicated clearly and in a manner that does not suggest the author's and or Publisher's endorsement whatsoever. Any other use of its content in any medium or format, now known or developed in the future, requires prior written permission of the copyright holder.