COVID-19 Special Section: Introduction. Targeted reflection, mutual understanding, and collaborative working. Building blocks for post‑pandemic models in higher education
Keywords:
higher education stakeholders, COVID-19 experiences in higher education, future prospects for higher education, COVID-19 responses in higher education, good practice in crisis management
Abstract
This introduction to the COVID-19 Special Section highlights the importance for targeted reflection on pandemic experiences, mutual understanding of perspectives and best practice sharing by and across stakeholder groups. Higher education, similar to other global sectors, has been profoundly shaken by the realities brought about since March 2020, and different stakeholders have felt the impact and consequences of the pandemic on a daily basis. Reports of challenges go a long way towards enabling understanding; however, unless these are combined with demonstrations of responses in context and analyses of their effectiveness, they remain at the level of awareness and cannot move towards action. Sharing the lessons learned, alerting to specificities and gaining perspectives have never been more timely, as higher education shapes future models for enhanced stakeholder experiences within increased quality parameters. Notwithstanding the disruptive effect on societies, COVID-19 must also be recognised as an accelerator for higher education, impacting digitalisation, accessibility and creating opportunities for new approaches to educational delivery and collaboration. The papers in this Special Section cover a variety of contexts, moving swiftly from Spain to Poland to the United States of America, India and Iran to return to Europe, i.e. Slovenia. Authors tackle specific challenges experienced by stakeholders, be they students, teaching and administrative staff, researchers or policy makers, and discuss lessons learned, highlight perceived benefits and recommend how these may be translated into policy and practice.
Downloads
Download data is not yet available.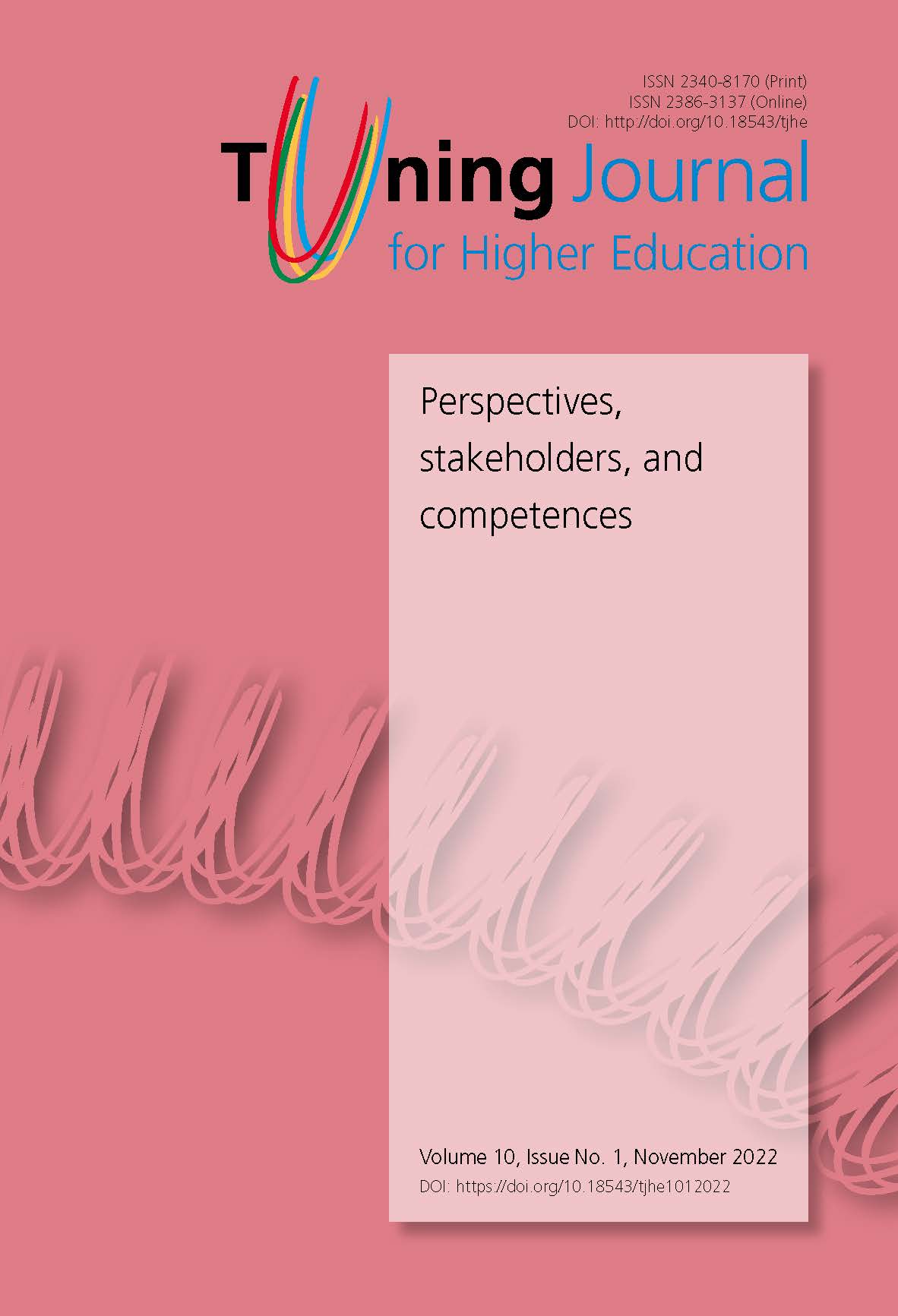 How to Cite
Greere, Anca. 2022. "COVID-19 Special Section: Introduction. Targeted Reflection, Mutual Understanding, and Collaborative Working. Building Blocks for post‑pandemic Models in Higher Education". Tuning Journal for Higher Education 10 (1), 229-39. https://doi.org/10.18543/tjhe.2600.
Authors are required to sign and submit a copyright transfer agreement after acceptance but before publication of their manuscript. To that effect, they receive, from the Managing Editor of Tuning Journal for Higher Education, a standard copyright assignment form designed along the following lines:
1. Authorship:
The author who signs the copyright transfer agreement must be the sole creator of the work or legally acting on behalf of and with the full agreement of all the contributing authors.
2. Copyright and Code of conduct:
a) Authors warrant that their work is original; has not been previously copyrighted or published in any form; is not under consideration for publication elsewhere; its submission and publication do not violate TJHE Ethical Guidelines for Publication and any codes (of conduct), privacy and confidentiality agreements, laws or any rights of any third party; and no publication payment by the Publisher (University of Deusto) is required.
b) Authors are solely liable for the consequences that may arise from third parties' complaints about the submitted manuscript and its publication in Tuning Journal for Higher Education (TJHE).
c) Authors grant to the Publisher the worldwide, sub-licensable, and royalty-free right to exploit the work in all forms and media of expression, now known or developed in the future, for educational and scholarly purposes.
d) Authors retain the right to archive, present, display, distribute, develop, and republish their work (publisher's version) to progress their scientific career provided the original publication source (Tuning Journal) is acknowledged properly and in a way that does not suggest the Publisher endorses them or their use of the wortk.
e) Authors warrant that no permissions or licences of any kind will be granted that might infringe the rights granted to the Publisher.
3. Users:
Tuning Journal for Higher Education is an Open Access publication. Its content is free for full and immediate access, reading, search, download, distribution and reuse in any medium or format only for non-commercial purposes and in compliance with any applicable copyright legislation, without prior permission from the Publisher or the author(s). In any case, proper acknowledgement of the original publication source must be made and any changes to the original work must be indicated clearly and in a manner that does not suggest the author's and or Publisher's endorsement whatsoever. Any other use of its content in any medium or format, now known or developed in the future, requires prior written permission of the copyright holder.