Preparing for the unexpected in a COVID-19 world: The teaching dilemmas of a mid-semester faculty change
Deborah M. Gray

Central Michigan University, United States

Jeremy T. Bond

Alliant University, United States

Jessica M. Wicks

Michigan State University in Lansing, United States

Nancy Hicks

Central Michigan University, United States
Keywords:
crisis, COVID-19, pandemic, mid-semester faculty change, teaching, turnover, instructional support
Abstract
Despite the perceived rarity of mid-semester faculty changes, there is a shortage of literature to guide administrators and faculty on best practices for handing the dilemmas associated with mid-semester faculty changes. This is particularly concerning given the uncertainty of situations like the COVID-19 global pandemic and recent research that finds that future extreme epidemics are likely to happen. This paper seeks to answer two questions (1) What can faculty and administrators do to prepare students who are experiencing a mid-semester faculty change, and (2) What procedures and processes are in place to assist the incoming faculty? Data were collected through a survey of students who had underwent a mid-semester faculty change and interviews with administrators who deal with personnel issues like this one. The data suggest faculty should first meet with students to assess their progress before jumping into an established lesson plan (the opposite of how faculty normally prepare to teach a class). Clear communication about expectations, organization of the course materials, and instructor flexibility was identified as keys to student success during a teaching disruption. These findings align with decades of research on teaching and learning. Administrators should create contingency plans that go beyond the personnel transaction and that help faculty quickly prepare for a transition that is student focused. More research is needed to identify the best administrative processes and procedures to assist faculty in a smooth transition when taking over a course mid-semester.
Received: 14 September 2021
Accepted: 29 September 2022
Downloads
Download data is not yet available.
References
Adams, Catherine. "PowerPoint, Habits of Mind, and Classroom Culture." Journal of Curriculum Studies 38, no. 4 (2006): 389–411. https://doi.org/10.1080/00220270600579141.
Ahmed, Sayem, Hasin Md. Muhtasim Taqi, Yeasir Iqbal Farabi, Mohiuddin Sarker, Syed Mithun Ali, and Bathrinath Sankaranarayanan. "Evaluation of Flexible Strategies to Manage the COVID-19 Pandemic in the Education Sector." Global journal of flexible systems management22, no. Suppl 2 (2021): 81–105.
Ahmad, Saima, Syed Muhammad Fazal-E-Hasan, and Ahmad Kaleem. "How Ethical Leadership Stimulates Academics' Retention in Universities." International Journal of Educational Management 32, no. 7 (2018): 1348–62. https://doi.org/10.1108/ijem-11-2017-0324.
Barrett, Sarah Elizabeth. "Maintaining Equitable and Inclusive Classroom Communities Online during the COVID-19 Pandemic." Journal of Teaching and Learning 15, no. 2 (2021): 102–16. https://doi.org/10.22329/jtl.v15i2.6683.
Bereday, George Z.F. "The Social Dilemma in the Education of Teachers in Western Europe." Journal of Teacher Education 7, no. 4 (1956): 293–303. https://doi.org/10.1177/002248715600700403.
Berelson, Bernard. Content Analysis in Communications Research. New York: Free Press, 1952.
Bledsoe, T. Scott, and Janice J. Baskin. "Recognizing Student Fear: The Elephant in the Classroom." College Teaching 62, no. 1 (2014): 32–41. https://doi.org/10.1080/87567555.2013.831022.
Brasca, Cladio, Charge Krishnan, Varun Marya, Katie Owen, Joshua Sirois, and Shyla Zaire. "How Technology Is Shaping Learning in Higher Education." McKinsey & Company. McKinsey & Company, June 15, 2022. https://www.mckinsey.com/industries/education/our-insights/how-technology-is-shapinglearning-in-higher-education.
Bruner, Jerome S. The Culture of Education. Cambridge, Mass, MA: Harvard Univ. Press, 2003.
Cannon, Sue. "Social Research in Stressful Settings: Difficulties for the Sociologist Studying the Treatment of Breast Cancer." Sociology of health & illness 11, no. 1 (1989): 62–77.
Çimen, Şeyda Selen, and Şevki Kömür. "Dilemma Situations in Teaching Practice: What Do Student Teachers Reflect?" Gaziantep University Journal of Social Sciences 18 (2019): 168–77. https://doi.org/10.21547/jss.599356.
Cober, William, and Betty Adams. "When Interviewing: How Many Is Enough?" International journal of assessment tools in education 7, no. 1 (2020): 73–79.
"Comparative Indicators of Education in the United States and Other G-20 Countries: 2015." National Center for Education Statistics (NCES) Home Page, a part of the U.S. Department of Education, 2015. https://nces.ed.gov/pubs2016/2016100.pdf.
Condon, William, Ellen R Iverson, Cathryn A Manduca, Carol Rutz, Gudrun Willett, Mary Taylor Huber, and Richard Haswell. Faculty Development and Student Learning: Assessing the Connections. Bloomington: Indiana University Press, 2015.
Conklin, Mark H., and Shane P. Desselle. "Job Turnover Intentions among Pharmacy Faculty." Am J Pharm Educ 71, no. 4 (2007): 62–62. https://doi.org/10.5688/aj710462.
Corbin, Juliet M., and Anselm Strauss. "Grounded Theory Research: Procedures, Canons, and Evaluative Criteria." Qualitative Sociology 13, no. 1 (1990): 3–21. https://doi.org/10.1007/bf00988593.
Cruce, Ty M, Gregory C Wolniak, Tricia A Seifert, and Ernest T Pascarella. "Impacts of Good Practices on Cognitive Development, Learning Orientations, and Graduate Degree Plans During the First Year of College." Journal of College Student Development 47, no. 4 (2006): 365–83. https://doi.org/10.1353/csd.2006.0042.
Davies, E A, S M Hall, C R Clarke, M P Bannon, and A P Hopkins. "Do Research Interviews Cause Distress or Interfere in Management? Experience from a Study of Cancer Patients." Journal of the Royal College of Physicians of London 32, no. 5 (1998): 406–411.
Daniel, Sir John. "Education and the COVID-19 Pandemic." Prospects (Paris)49, no. 1-2 (2020): 91–96.
Ehrenberg, Ronald G., ed. What's Happening to Public Higher Education?: The Shifting Financial Burden. Baltimore: Johns Hopkins University Press, 2008.
Ehrenberg, Ronald, Hirschel Kasper, and Daniel Rees. Faculty Turnover at American Colleges and Universities: Analyses of AAUP Data, 1994.
Elbaz, Freema. "The Teacher's 'Practical Knowledge': Report of a Case Study." Curriculum Inquiry 11, no. 1 (1981): 43–71. https://doi.org/10.1080/03626784.1981.11075237.
Elliot, Dedreiana, Marlen Gamino, and Jenkins J Jennifer. "Creating Community in the College Classroom: Best Practices for Increased Student Success." International Journal of Education and Social Science 3, no. 6 (2016). http:// www.ijessnet.com/wp-content/uploads/2016/07/5.pdf.
Fain, Paul. "Latest Data on Enrollment Declines." Inside Higher Ed, 2018. https://www.insidehighered.com/admissions/article/2018/05/29/new-data-enrollmentand-where-declines-are-greatest.
Federičová, Miroslava. "Teacher Turnover: What Can We Learn from Europe?" European Journal of Education 56, no. 1 (2020): 102–16. https://doi.org/10.1111/ejed.12429.
Friedman, Scott Principal and Tiffany Fishman."Covid-19 Impact on Higher Education." Deloitte United States, May 29, 2020. https://www2.deloitte.com/us/en/pages/public-sector/articles/covid-19-impact-on-higher-education.html.
Gandy, Rob, Patricia Harrison, and Jeff Gold. "Talent Management in Higher Education: Is Turnover Relevant?" European Journal of Training and Development 42, no. 9 (2018): 597–610. https://doi.org/10.1108/ejtd-11-2017-0099.
Gbadamosi, Lasun, and Nwosu Jonathan Chinaka. "Organizational Politics, Turnover Intention, and Organizational Commitment as Predictors of Employees'
Efficiency and Effectiveness in Academia." Proceedings of Informing Science & IT Education Conference, (2011): 305–14. Accessed June 15, 2021. http://proceedings.informingscience.org/InSITE2011/InSITE11p305-314Lasun205.pdf.
González, Yaquelín Puebla, José Luis Almuiñas Rivero, Euclides Catá Guilarte, and Aníbal Isaac Silva. "En Torno Al Dilema De La Fluctuación Laboral Del Personal Docente Universitario / around the Dilemma of the Fluctuation of the University Teaching Staff." Estudios del Desarrollo Social: Cuba y América Latina. Accessed August 2, 2022. http://www.revflacso.uh.cu/index.php/EDS/article/view/261/239.
Gubrium, Jaber F., James A. Holstein, Amir B. Marvasti, and Karyn D. McKinney. The SAGE Handbook of Interview Research : the Complexity of the Craft. Edited by Jaber F. Gubrium, James A. Holstein, Amir B. Marvasti, and Karyn D. McKinney. Second edition. Thousand Oaks, California: SAGE Publications, 2012.
Hair, Joseph F., David J. Ortinau, and Dana E. Harrison. Essentials of Marketing Research. New York, NY: McGraw Hill, 2021.
Hansson, Kristina, and Per-Olof Erixon. "Academisation and Teachers' Dilemmas." European Educational Research Journal 19, no. 4 (2019): 289– 309. https://doi.org/10.1177/1474904119872935.
Harvey, Stephen, Christopher Cushion, and Paul Sammon. "Dilemmas Faced by PreService Teachers When Learning about and Implementing a Game-Centred Approach." European Physical Education Review 21, no. 2 (2014): 238–56. https://doi.org/10.1177/1356336x14560773.
Hofstede, Geert H. Culture's Consequences, International Differences in WorkRelated Values. Beverly Hills: Sage, 1984.
Holsti, O.R. Content Analysis for the Social Sciences and Humanities, Reading, MA: Addison-Wesley, 1969.
Hsieh, Hsiu-Fang, and Sarah E. Shannon. "Three Approaches to Qualitative Content Analysis." Qual Health Res 15, no. 9 (2005): 1277–88. https://doi.org/10.1177/1049732305276687.
Johnson, Barbara, and Jill Macleod Clarke. "Collecting Sensitive Data: The Impact on Researchers," Qual Health Res 13, no. 3 (2003): pp. 421-434, https://doi.org/10.1177/1049732302250340.
Joseph, Pamela Bolotin. Cultures of Curriculum. Mahwah, NJ: L. Erlbaum Associates, 2000.
Kennisonn, Charles. W. "Enhancing Teachers' Professional Learning: Relationships Between School Culture and School Teachers' Beliefs, Images, and Ways of Knowing." PhD diss. Florida State University, 1990.
Komaromy, Carol. 2020. "The Performance of Researching Sensitive Issues." Mortality 25 (3): 364–77. doi: https://doi.org/10.1080/13576275.2019.1635104.
Komarraju, Meera, Sergey Musulkin, and Gargi Bhattacharya. "Role of Student– Faculty Interactions in Developing College Students' Academic Self-Concept, Motivation, and Achievement." Journal of College Student Development 51, no. 3 (2010): 332–42. https://doi.org/10.1353/csd.0.0137.
Kondracki, Nancy L, Nancy S Wellman, and Daniel R Amundson. "Content Analysis: Review of Methods and Their Applications in Nutrition Education." J Nutr Educ Behav 34, no. 4 (2002): 224–30. https://doi.org/10.1016/S14994046(06)60097-3.
Kremenitzer, Janet Pickard, Justyna K. Mojsa, and Marc A. Brackett. "Creating an Emotionally Intelligent Classroom Culture." In Emotional Intelligence: Theoretical and Cultural Perspectives, edited by R. J. Emmerling, V. K. Shanwal, and M. K. Mandal, 191–207. New York, NY: Nova Science Publishers, 2008.
Krippendorff, Klaus. Content Analysis: An Introduction to Its Methodology. Los Angeles, CA: SAGE, 2013.
Kuh, George D., and Shouping Hu. "The Effects of Student-Faculty Interaction in the 1990s." The Review of Higher Education 24, no. 3 (2001): 309–32. https://doi.org/10.1353/rhe.2001.0005.
Lederman, Doug. "EP.77: Turnover, Burnout and Demoralization in Higher Ed." Inside Higher Ed. Kaplan, April 14, 2022. https://www.insidehighered.com/audio/2022/04/14/ep77-turnover-burnout-and-demoralization-higher-ed.
Lee, Raymond M. Doing Research on Sensitive Topics. London: Sage, 1993.
Liu, Shihua, Hao Zhang, Zhanxiang Ye, and Gang Wu. "Online Blending Learning Model of School-Enterprise Cooperation and Course Certificate Integration during the COVID-19 Epidemic." Science Journal of Education 8, no. 2 (2020): 66. https://doi.org/10.11648/j.sjedu.20200802.16.
Lohr, Linda, and Anna Ursyn. "Visualizing the Instructional Design Process: Seven Usability Strategies for Promoting Creative Instruction." Design Principles and Practices: An International Journal 4, no. 2 (2010): 65–75.
Marani, Marco, Gabriel G. Katul, William K. Pan, and Anthony J. Parolari. "Intensity and Frequency of Extreme Novel Epidemics." Proceedings of the National Academy of Sciences 118, no. 35 (2021). https://doi.org/10.1073/pnas.2105482118.
Mathias, Haydn. "The Role of the University Head of Department." Journal of Further and Higher Education 15, no. 3 (1991): 65–75. https://doi.org/10.1080/0309877910150308.
McCormick, Nicholas J, and Marva S Lucas. "Student Retention and Success: Faculty Initiatives at Middle Tennessee State University." Journal of Student Success and Retention 1, no. 1 (2014): 1-12. https://pdfs.semanticscholar.org/505e/672a24d557d486ddfae77233179327da21da.pdf.
Mehan, Hugh, Gordon C. Chang, Makeba. Jones, and Season S. Mussey. In the Front Door: Creating a College-Going Culture of Learning. London: Routledge, 2016.
Munby, Hugh, and Tom Russell. "Reflective Teacher Education: Technique or Epistemology?" Teaching and Teacher Education 9, no. 4 (1993): 431–38. https://doi.org/10.1016/0742-051x(93)90009-6.
Myers, S A, and Alan Goodbye. "College Student Learning, Motivation, and Satisfaction as a Function of Effective Faculty Communication Behaviors." Southern Communication Journal 79, no. 1 (2014): 14–26.
Pascarella, Ernest T, Ty M Cruce, Gregory C Wolniak, and Charles F Blaich. "Do Liberal Arts Colleges Really Foster Good Practices in Undergraduate Education?" Journal of College Student Development 45, no. 1 (2004): 57–74. https://doi.org/10.1353/csd.2004.0013.
Pascarella, Ernest T., and Patrick T. Terenzini. How College Affects Students: A Third Decade of Research. San Francisco: Jossey-Bass, 2005.
Pascarella, Ernest T., Mark H. Salisbury, and Charles Blaich. "Exposure to Effective Instruction and College Student Persistence: A Multi-Institutional Replication and Extension." Journal of College Student Development 52, no. 1 (2011): 4–19. https://doi.org/10.1353/csd.2011.0005.
Pascarella, Ernest T., Tricia A. Seifert, and Elizabeth J. Whitt. "Effective Instruction and College Student Persistence: Some New Evidence." New Directions for Teaching and Learning 2008, no. 115 (2008): 55–70. https://doi.org/10.1002/tl.325.
Paulus, Trena, and Jessica Nina Lester. Doing Qualitative Research in a Digital World. Los Angeles: SAGE, 2022.
Perez, Teresa Sandra. "In Support of Situated Ethics: Ways of Building Trust with Stigmatised 'waste Pickers' in Cape Town." Qualitative research : QR 19, no. 2 (2019): 148–163.
Ramasamy, Vijayan, and Nor Hanzana Abdullah. "Faculty's Turnover in Private Higher Learning Institutions: A Phenomenal Inquiry." Business and Economic Horizons 13, no. 2 (2017): 169–81. https://doi.org/10.15208/beh.2017.13.
Rogoff, Barbara. Apprenticeship in Thinking: Cognitive Development in Social Context. New York: Oxford University Press, 1990.
Saleh Al-Omoush, Khaled, Maria Orero-Blat, and Domingo Ribeiro-Soriano. "The Role of Sense of Community in Harnessing the Wisdom of Crowds and Creating Collaborative Knowledge during the COVID-19 Pandemic." Journal of Business Research 132 (2021): 765–74. https://doi.org/10.1016/j.jbusres.2020.10.056.
Samad, Ataus, Michael Muchiri, and Sehrish Shahid. "Investigating Leadership and Employee Well-Being in Higher Education." Personnel Review. Emerald Publishing Limited, January 13, 2021. https://www.emerald.com/insight/content/doi/10.1108/PR-05-2020-0340/full/html.
Scager, Karin, Sanne F. Akkerman, Albert Pilot, and Theo Wubbels. "Teacher Dilemmas in Challenging Students in Higher Education." Teaching in Higher Education 22, no. 3 (2016): 318–35. https://doi.org/10.1080/13562517.2016.1248392.
Schupak, Esther B. "Listening Rhetoric in the Diverse Classroom: Suggestions for Praxis." College Teaching 67, no. 3 (2019): 196–204. https://doi.org/10.1080/87567555.2019.1614899.
Seidman, Irving. Interviewing as Qualitative Research : a Guide for Researchers in Education and the Social Sciences. 4th ed. New York: Teachers College Press, 2013.
"Student Evaluations of Teaching." Vanderbilt University. Accessed September 15, 2021. https://cft.vanderbilt.edu/guides-sub-pages/student-evaluations/.
Saunders, Benjamin, Julius Sim, Tom Kingstone, Shula Baker, Jackie Waterfield, Bernadette Bartlam, Heather Burroughs, and Clare Jinks. "Saturation in Qualitative Research: Exploring Its Conceptualization and Operationalization." Quality & quantity 52, no. 4 (2017): 1893–1907.
Srinivasan, Seshasai, Juan Antonio Lopez Ramos, and Nasim Muhammad. "A Flexible Future Education Model–strategies Drawn from Teaching During the Covid-19 Pandemic." Education sciences 11, no. 9 (2021): 557–567.
Tal, Tali, and Yarden Kedmi. "Teaching Socioscientific Issues: Classroom Culture and Students' Performances." Cultural Studies of Science Education 1, no. 4 (2006): 615–44. https://doi.org/10.1007/s11422-006-9026-9.
Teo, Timothy. Handbook of Quantitative Methods for Educational Research. Edited by Timothy Teo. Rotterdam: Sense Publishers, 2013.
Tinto, Vincent. "Research and Practice of Student Retention: What Next?" Journal of College Student Retention: Research, Theory & Practice 8, no. 1 (2006): 1–19. https://doi.org/10.2190/4YNU-4TMB-22DJ-AN4W.
Tugend, Alina. "On the Verge of Burnout: Covid-19's Impact on Faculty Well-Being and Career Plans." Chronicle of Higher Education, 2020. https://connect.chronicle.com/rs/931-EKA-218/images/Covid%26FacultyCareerPaths_Fidelity_ResearchBrief_v3%20%281%29.pdf.
Umbach, Paul D., and Matthew R. Wawrzynski. "Faculty Do Matter: The Role of College Faculty in Student Learning and Engagement." Research in Higher Education 46, no. 2 (2005): 153–84. https://doi.org/10.1007/s11162-004-1598-1.
Windschitl, Mark. "Framing Constructivism in Practice as the Negotiation of Dilemmas: An Analysis of the Conceptual, Pedagogical, Cultural, and Political Challenges Facing Teachers." Review of Educational Research 72, no. 2 (2002): 131–75. https://doi.org/10.3102/00346543072002131.
Xu, Yonghong Jade. "Faculty Turnover: Discipline-Specific Attention Is Warranted." Research in Higher Education 49, no. 1 (2008): 40–61. https://doi.org/10.1007/s11162-007-9062-7.
Zeichner, Kenneth M., and B. Robert Tabachnick. "Are the Effects of University Teacher Education 'Washed Out' by School Experience?" Journal of Teacher Education 32, no. 3 (1981): 7–11. https://doi.org/10.1177/002248718103200302.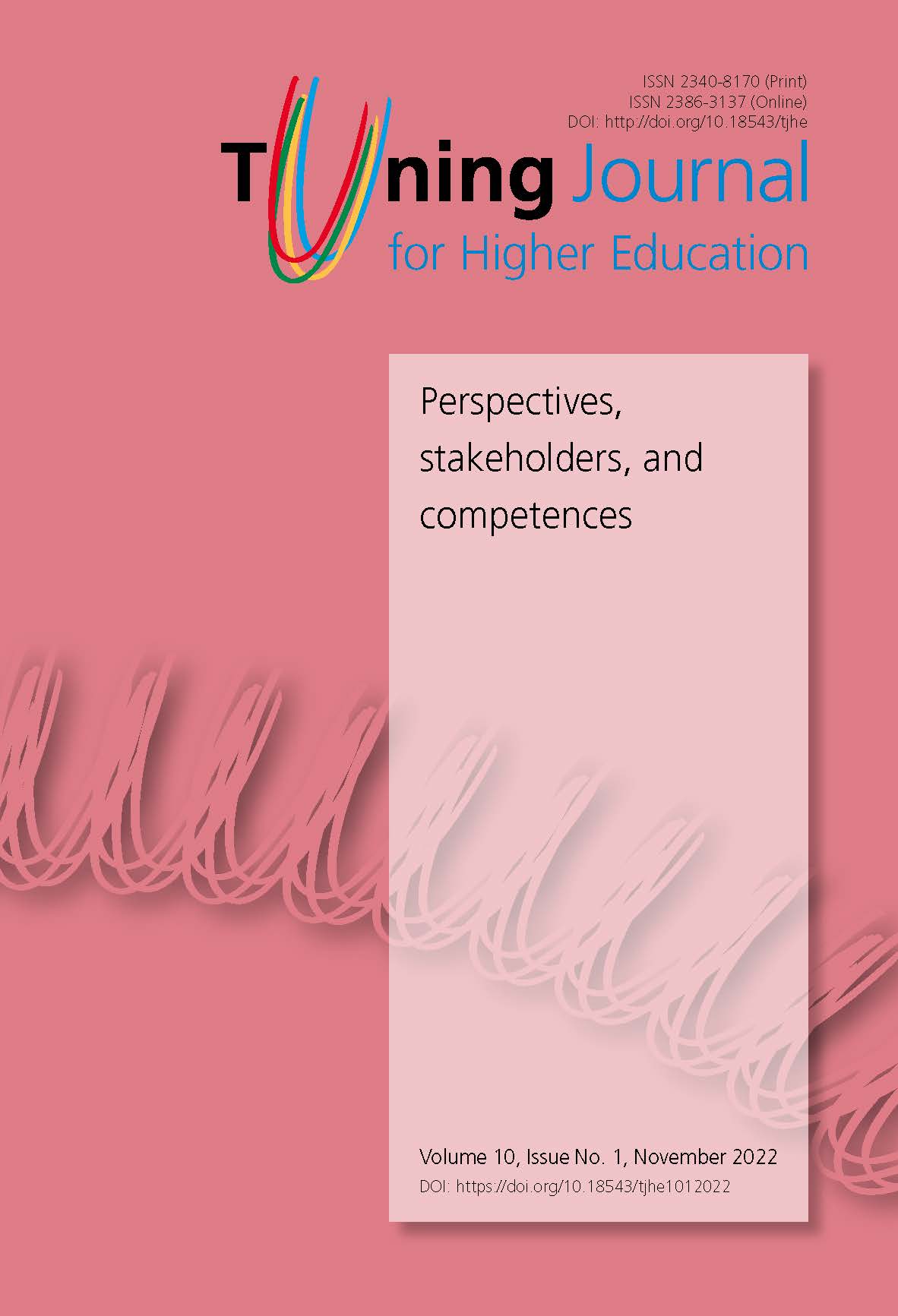 How to Cite
Gray, Deborah M., Jeremy T. Bond, Jessica M. Wicks, and Nancy Hicks. 2022. "Preparing for the Unexpected in a COVID-19 World: The Teaching Dilemmas of a Mid-Semester Faculty Change". Tuning Journal for Higher Education 10 (1), 285-318. https://doi.org/10.18543/tjhe.2296.
Authors are required to sign and submit a copyright transfer agreement after acceptance but before publication of their manuscript. To that effect, they receive, from the Managing Editor of Tuning Journal for Higher Education, a standard copyright assignment form designed along the following lines:
1. Authorship:
The author who signs the copyright transfer agreement must be the sole creator of the work or legally acting on behalf of and with the full agreement of all the contributing authors.
2. Copyright and Code of conduct:
a) Authors warrant that their work is original; has not been previously copyrighted or published in any form; is not under consideration for publication elsewhere; its submission and publication do not violate TJHE Ethical Guidelines for Publication and any codes (of conduct), privacy and confidentiality agreements, laws or any rights of any third party; and no publication payment by the Publisher (University of Deusto) is required.
b) Authors are solely liable for the consequences that may arise from third parties' complaints about the submitted manuscript and its publication in Tuning Journal for Higher Education (TJHE).
c) Authors grant to the Publisher the worldwide, sub-licensable, and royalty-free right to exploit the work in all forms and media of expression, now known or developed in the future, for educational and scholarly purposes.
d) Authors retain the right to archive, present, display, distribute, develop, and republish their work (publisher's version) to progress their scientific career provided the original publication source (Tuning Journal) is acknowledged properly and in a way that does not suggest the Publisher endorses them or their use of the wortk.
e) Authors warrant that no permissions or licences of any kind will be granted that might infringe the rights granted to the Publisher.
3. Users:
Tuning Journal for Higher Education is an Open Access publication. Its content is free for full and immediate access, reading, search, download, distribution and reuse in any medium or format only for non-commercial purposes and in compliance with any applicable copyright legislation, without prior permission from the Publisher or the author(s). In any case, proper acknowledgement of the original publication source must be made and any changes to the original work must be indicated clearly and in a manner that does not suggest the author's and or Publisher's endorsement whatsoever. Any other use of its content in any medium or format, now known or developed in the future, requires prior written permission of the copyright holder.