Columbus' Egg? Qualifications Frameworks, Sectoral Profiles and Degree Programme Profiles in Higher Education
Robert Wagenaar

University of Groningen, Netherlands
Keywords:
qualifications frameworks, sectoral qualifications frameworks, sectoral profiles, degree programme profiles, reference points, learning outcomes, competences
Abstract
During the last 25 years international mobility has become paramount in higher education. International and national authorities and higher education institutions have set-up effective structures to facilitate and implement this process. It has become part of a higher education modernization process which obtained a serious push with the start and development of the Bologna Process in Europe as of 1999. However the same authorities have been far less active in finding answers on how to facilitate this process in terms of curriculum development, quality assurance and recognition. The initiative was largely left to individuals supported by their employing organizations. These have proven to be visionaries. Their efforts have led to competence and learning outcomes based descriptors for meta-qualifications frameworks and to important reference points / meta profiles for subject areas. Academics have been strongly involved in developing the latter and by doing so have offered a more sustainable basis for implementing reforms based on the student-centred approach, which is so relevant for today's world in terms of employability and citizenship. The most recent development has been the development of Tuning sectoral qualifications frameworks which allow for bridging the two European meta-frameworks, the EQF for Lifelong Learning and the QF for the European Higher Education Area, with sectoral and degree profiles. This can be seen as a breakthrough initiative because it offers us a transparent model which is developed and owned by academics and can easily be used by all involved in programme design and development, quality enhancement and assurance and recognition of (periods of) studies.
Published online: 4 July 2014
Downloads
Download data is not yet available.
References
"Bologna Seminar on Qualification Structures in Higher Education in Europe. Recommendations." Copenhagen: Bologna-Berlin2003 Project Team, 2003. http://www.bologna-berlin2003.de/pdf/Results_copenhagen.pdf.
"Dublin Descriptors." 2004. http://www.tcd.ie/vpcao/academic-development/assets/pdf/dublin_descriptors.pdf.
"European Qualifications Framework (EQF)." 2008. http://ec.europa.eu/education/lifelong-learning-policy/eqf_en.htm.
Bergan, Sjur. "Qualification Structures in European Higher Education." A report on the Danish Bologna Seminar, København, March 27 — 28, 2003. Strasbourg/ København: European Higher Education Area (EHEA), 2003. http://www.ehea. info/Uploads/Seminars/030327-28Report_General_Rapporteur.pdf.
Campbell, Carolyn, and Marijk van der Wende. "International Initiatives and Trends in Quality Assurance for European Higher Education. Exploratory Trend Report." Helsinki: European Network for Quality Assurance in Higher Education, 2000. http://www.enqa.eu/files/initiatives.pdf.
De Wit, Hans. "Internationalisation of Higher Education in Europe and Its Assessment, Trends and Issues." The Hague: Nederlands-Vlaamse Accreditatieorganisatie (Accreditation Organisation of the Netherlands and Flanders) - NVAO, 2010. http://nvao.com/page/downloads/Internationalisation_of_Higher_Education_in_Europe_DEF_december_2010.pdf.
Erasmus Student Network (ESN). "Problems of Recognition in Making Erasmus 2010 (PRIME 2010). Final Report. Public Part." Brussels: Audiovisual & Culture Executive Agency, Education and Culture DG, European Commission, 2011. http://eacea.ec.europa.eu/llp/project_reports/documents/erasmus/accompanying_measures_2010/era_am_177245.pdf.
European Ministers for Higher Education. "The Bologna Process 2020 - the European Higher Education Area in the New Decade: Communiqué of the Conference of European Ministers Responsible for Higher Education, Leuven and Louvain-La-Neuve, 28-29 April 2009 [ Leuven Communiqué]." 2009. http://www.ond.vlaanderen.be/hogeronderwijs/bologna/conference/documents/leuven_louvain-la-neuve_communiqu%C3%A9_april_2009.pdf.
_____. " 'Realising the European Higher Education Area': Communiqué of the Conference of Ministers Responsible for Higher Education in Berlin on 19 September 2003 [Berlin Communiqué]." Berlin: Bologna-Berlin2003 Project Team, 2003. http://www.bologna-berlin2003.de/pdf/Communique1.pdf.
Harvey, Lee, and Diana Green. "Defining Quality." Assessment & Evaluation in Higher Education 18, no. 1 (1993): 9-34.
Jeliazkova, Margarita, and Don F. Westerheijden. "Systematic Adaptation to a Changing Environment: Towards a Next Generation of Quality Assurance Models." Higher Education 44, no. 3-4 (2002 ): 433-48.
Knight, Jane, and Hans de Wit. Quality and Internationalisation of Higher Education. Paris: OECD Publishing, 1999.
Lokhoff, Jenneke, Bas Wegewijs, Katja Durkin, Robert Wagenaar, Julia González, Ann Katherine Isaacs, Luigi F. Donà dalle Rose, and Mary Gobbi, eds. A Tuning Guide to Formulating Degree Programme Profiles. Bilbao, Groningen, and The Hague: University of Deusto, 2010.

Quality Assurance Agency for Higher Education (QAA). http://www.qaa.ac.uk/.
_____. "Subject Benchmark Statements. Statements Setting out What Achievement Is Expected According to Level and Subject."http://www.qaa.ac.uk/AssuringStandardsAndQuality/subject-guidance/Pages/Subject-benchmark-statements.aspx.
Teichler, Ulrich. "Mutual Recognition and Credit Transfer in Europe: Experiences and Problems." Higher Education Forum 1, no. 2003 (2003): 33-53.
Tuning Educational Structures in Europe (Tuning Europe). http://www.unideusto. org/tuningeu/.
_____. Tuning Sectoral Qualifications Frameworks for the Humanities and the Arts. Final Report 2010 - 2011 [SQF HUMART Final Report 2010-2011]. Bilbao: University of Deusto, 2012.
_____. "Tuning SQF for the Social Sciences."http://www.unideusto.org/tuningeu/tuning-sqf-social-sciences.html.
Van Damme, Dirk. "European Quality Assurance: Development and Challenges." Brussels: Steering Committee of Tuning Project, 2001.
_____. "Internationalization and Quality Assurance: Towards Worldwide Accreditation?" Paper commissioned for the IAUP XIIth Triennial Conference, Brussels, 11-14 July 1999. http://citeseerx.ist.psu.edu/viewdoc/download?doi=10.1.1.199.5877&rep=rep1&type=pdf.
_____. "Trends and Models in International Quality Assurance and Accreditation in Higher Education in Relation to Trade in Education Services." Paper presented at the OECD / US Forum on Trade in Educational Services, Washington, D.C., 23-24 May 2002. http://www.unizg.hr/fileadmin/upravljanjekvalitetom/pdf/docsmjernice/oecd_trends_and_models.pdf.
Van der Wende, Marijk C. , and Don F. Westerheijden. "International Aspects of Quality Assurance with a Special Focus on European Higher Education." Quality in Higher Education 7, no. 3 (2001): 233-45.
Van Gaalen, Adinda. "Internationalisation and Quality Assurance " In EAIE Professional Development Series for International Educators, Volume 4. Amsterdam: European Association for International Education (EAIE), 2010. http://www.eaie.org/home/publishing/order-a-publication.html.
Van Vught, Frans A., and Don. F. Westerheijden. Quality Management and Quality Assurance in European Higher Education: Methods and Mechanisms. Luxembourg: Office for Official Publications of the Commission of the European Communities, 1993.
_____. "Towards a General Model of Quality Assessment in Higher Education." Higher Education 28, no. 3 (1994): 355-71.
Westerheyden, Don F., and Marlies Leegwater. "Working on the European Dimension of Quality. Report of the Conference on Quality Assurance in Higher Education as Part of the Bologna Process, Amsterdam, 12-13 March 2002." Zoetermeer: Ministry of Education, Culture and Sciences (The Netherlands), 2003.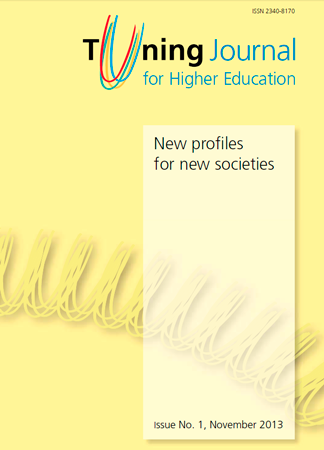 How to Cite
Wagenaar, Robert. 2014. "Columbus' Egg? Qualifications Frameworks, Sectoral Profiles and Degree Programme Profiles in Higher Education". Tuning Journal for Higher Education 1 (1), 71-103. https://doi.org/10.18543/tjhe-1(1)-2013pp71-103.
Authors are required to sign and submit a copyright transfer agreement after acceptance but before publication of their manuscript. To that effect, they receive, from the Managing Editor of Tuning Journal for Higher Education, a standard copyright assignment form designed along the following lines:
1. Authorship:
The author who signs the copyright transfer agreement must be the sole creator of the work or legally acting on behalf of and with the full agreement of all the contributing authors.
2. Copyright and Code of conduct:
a) Authors warrant that their work is original; has not been previously copyrighted or published in any form; is not under consideration for publication elsewhere; its submission and publication do not violate TJHE Ethical Guidelines for Publication and any codes (of conduct), privacy and confidentiality agreements, laws or any rights of any third party; and no publication payment by the Publisher (University of Deusto) is required.
b) Authors are solely liable for the consequences that may arise from third parties' complaints about the submitted manuscript and its publication in Tuning Journal for Higher Education (TJHE).
c) Authors grant to the Publisher the worldwide, sub-licensable, and royalty-free right to exploit the work in all forms and media of expression, now known or developed in the future, for educational and scholarly purposes.
d) Authors retain the right to archive, present, display, distribute, develop, and republish their work (publisher's version) to progress their scientific career provided the original publication source (Tuning Journal) is acknowledged properly and in a way that does not suggest the Publisher endorses them or their use of the wortk.
e) Authors warrant that no permissions or licences of any kind will be granted that might infringe the rights granted to the Publisher.
3. Users:
Tuning Journal for Higher Education is an Open Access publication. Its content is free for full and immediate access, reading, search, download, distribution and reuse in any medium or format only for non-commercial purposes and in compliance with any applicable copyright legislation, without prior permission from the Publisher or the author(s). In any case, proper acknowledgement of the original publication source must be made and any changes to the original work must be indicated clearly and in a manner that does not suggest the author's and or Publisher's endorsement whatsoever. Any other use of its content in any medium or format, now known or developed in the future, requires prior written permission of the copyright holder.