Educating Higher Education Students for Innovative Economies: What International Data Tell Us
Francesco Avvisati

Organisation for Economic Cooperation and Development (OECD), France

Gwenaël Jacotin

Organisation for Economic Cooperation and Development (OECD), France

Stéphan Vincent-Lancrin

Organisation for Economic Cooperation and Development (OECD), France
Keywords:
higher education, innovation, pedagogy, skills, international comparison, qualifications, system evaluation, curriculum
Abstract
As innovation increasingly fuels economic growth, higher education institutions and systems face the challenge of equipping students with the skills required by innovative economies. Using two international surveys of tertiary education graduates five years after their graduation, we show that the innovative, tertiary-educated workforce comprises a mix of graduates holding degrees from all disciplines. The contribution to innovation of different graduates varies by type of innovation. When they assess the strong and weak points of their university education, graduates give a mixed picture of the quality of the education they have received. We then link the propensity to participate in innovation to the relative emphasis on theory and practice in university programmes and conclude by highlighting the importance of a competence-based approach to curriculum and pedagogy
Published online: 4 July 2014
Downloads
Download data is not yet available.
References
Allen, Jim, and Rolf van der Velden, eds. The Flexible Professional in the Knowledge Society. New Challenges for Higher Education. Dordrecht: Springer, 2011.
Arum, Richard, and Josipa Roksa. Academically Adrift: Limited Learning on College Campuses. Chicago: University of Chicago Press, 2011.
Carnevale, Anthony P., Nicole Smith, and Michelle Melton. "STEM." Georgetown University Center for Education and the Workforce, 2011. http://cew.georgetown.edu/stem.
Hunt, Jennifer, Jean-Philippe Garant, Hannah Herman, and David J. Munroe. "Why Don't Women Patent?" NBER Working Paper No. 17888. Cambridge, MA: National Bureau of Economic Research (NBER), 2012. http://www.nber.org/papers/w17888.
Organisation for Economic Co-operation and Development (OECD). Higher Education to 2030, Volume 2, Globalisation. Edited by Stéphan Vincent-Lancrin and Kiira Kärkkäinen. Paris: OECD Publishing, 2009.
_____. The OECD Innovation Strategy: A Head Start on Tomorrow. Paris: OECD Publishing, 2010.
_____. Assessment of Higher Education Learning Outcomes (AHELO): Feasibility Study Report. Volume 2 – Data Analysis and National Experiences. Paris: OECD Publishing, 2013.
Paul, Jean-Jacques. "Graduates in the Knowledge and Innovation Society." In The Flexible Professional in the Knowledge Society. New Challenges for Higher Education, edited by Jim Allen and Rolf van der Velden. 111-37. Dordrecht: Springer, 2011.
Saavedra, Anna Rosefsky, and Juan Esteban Saavedra. "Do Colleges Cultivate Critical Thinking, Problem Solving, Writing and Interpersonal Skills?" Economics of Education Review 30, no. 6 (2011): 1516-26.
Toner, Phillip. "Workforce Skills and Innovation: An Overview of Major Themes in the Literature." OECD Education Working Paper no. 55. Paris: OECD Publishing, 2011. http://www.oecd-ilibrary.org/education/workforce-skills-and-innovation_5kgk6hpnhxzq-en.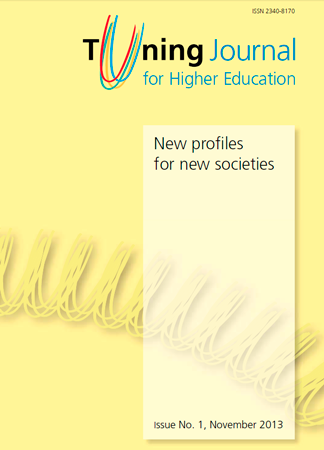 How to Cite
Avvisati, Francesco, Gwenaël Jacotin, and Stéphan Vincent-Lancrin. 2014. "Educating Higher Education Students for Innovative Economies: What International Data Tell Us". Tuning Journal for Higher Education 1 (1), 223-40. https://doi.org/10.18543/tjhe-1(1)-2013pp223-240.
Authors are required to sign and submit a copyright transfer agreement after acceptance but before publication of their manuscript. To that effect, they receive, from the Managing Editor of Tuning Journal for Higher Education, a standard copyright assignment form designed along the following lines:
1. Authorship:
The author who signs the copyright transfer agreement must be the sole creator of the work or legally acting on behalf of and with the full agreement of all the contributing authors.
2. Copyright and Code of conduct:
a) Authors warrant that their work is original; has not been previously copyrighted or published in any form; is not under consideration for publication elsewhere; its submission and publication do not violate TJHE Ethical Guidelines for Publication and any codes (of conduct), privacy and confidentiality agreements, laws or any rights of any third party; and no publication payment by the Publisher (University of Deusto) is required.
b) Authors are solely liable for the consequences that may arise from third parties' complaints about the submitted manuscript and its publication in Tuning Journal for Higher Education (TJHE).
c) Authors grant to the Publisher the worldwide, sub-licensable, and royalty-free right to exploit the work in all forms and media of expression, now known or developed in the future, for educational and scholarly purposes.
d) Authors retain the right to archive, present, display, distribute, develop, and republish their work (publisher's version) to progress their scientific career provided the original publication source (Tuning Journal) is acknowledged properly and in a way that does not suggest the Publisher endorses them or their use of the wortk.
e) Authors warrant that no permissions or licences of any kind will be granted that might infringe the rights granted to the Publisher.
3. Users:
Tuning Journal for Higher Education is an Open Access publication. Its content is free for full and immediate access, reading, search, download, distribution and reuse in any medium or format only for non-commercial purposes and in compliance with any applicable copyright legislation, without prior permission from the Publisher or the author(s). In any case, proper acknowledgement of the original publication source must be made and any changes to the original work must be indicated clearly and in a manner that does not suggest the author's and or Publisher's endorsement whatsoever. Any other use of its content in any medium or format, now known or developed in the future, requires prior written permission of the copyright holder.