COVID-19 and interdisciplinary research: What are the needs of researchers on aging?
P.J. White

Institute of Technology Carlow, Ireland

https://orcid.org/0000-0002-5716-8643

Gésine Alders

McMaster University, Canada

Audrey Patocs

McMaster University, Canada

Parminder Raina

McMaster University, Canada
Keywords:
aging, interdisciplinary research, co-design, COVID-19, pandemic, research, older people, older adults
Abstract
COVID-19 has had an extreme effect on older people. Now more than ever we need collaborative approaches to address complex issues within research on aging. However, the pandemic has dramatically changed the way we conduct, interact, and organize research within interdisciplinary groups. This paper describes a case study of how an interdisciplinary institute for research on aging has managed the process of change during COVID-19 restrictions. A design lead, researcher centered approach was used to understand the needs of researchers as they adapted across 6 months. Firstly, an online survey (n=51) was conducted to understand the scope of change and needs. The survey found broad themes ranging from assistance with finding additional funding to adjusting current research proposals. Following the survey, two Co-Design Sessions were conducted. The first session (n=53) diverged thinking to scope ideas from the survey and actionable themes were created. The second session (n=36) was conducted to converge thinking and focus on solutions based on one of these themes. The results revealed a diversity of ideas addressing the needs of interdisciplinary researchers in aging. These ideas spanned from exploring the capacity to do research remotely and creating virtual collaboration spaces to rethinking stakeholder engagement.
Received: 1 July 2021
Accepted: 12 October 2021
Downloads
Download data is not yet available.
References
Cohen, Andrew B., Anna L. Parks, Heather E. Whitson, Susan Zieman, Cynthia J. Brown, Cynthia Boyd, Kenneth E. Covinsky, and Michael A. Steinman. "Succeeding in Aging Research During the Pandemic: Strategies for Fellows and Junior Faculty." Journal of the American Geriatrics Society 69, no. 1 (2021/01/01 2021): 8-11. https://doi.org/10.1111/jgs.16868.
Creswell, John W., and J D. Creswell. Research Design: Qualitative, Quantitative, and Mixed Methods Approaches. Fifth edition. ed.: Los Angeles: SAGE., 2018. https://search.library.wisc.edu/catalog/999743449602121.
Design Council UK, 2019. "What Is the Framework for Innovation? Design Council's Evolved Double Diamond." accessed 12th November, 2020, https://www.designcouncil.org.uk/news-opinion/what-framework-innovation-design-councils-evolved-double-diamond.
Marston, Hannah R., Linda Shore, and P. J. White. "How Does a (Smart) Age- Friendly Ecosystem Look in a Post-Pandemic Society?". International Journal of Environmental Research and Public Health 17, no. 21 (2020). https://doi.org/10.3390/ijerph17218276.
McMaster Institute for Research on Aging. 2020, "MIRA Homepage" MIRA. Accessed 6th July 2020, https://mira.mcmaster.ca/.
McMaster University, 2020,"Winter Term Will Be Online: Provost's Letter." Accessed 8th November, 2020, https://covid19.mcmaster.ca/winter-term-will-be-online-provosts-letter/.
McMaster University 2020. "McMaster's Phased Return to Increased Research Activity." Accessed 8th November, 2020, https://research.mcmaster.ca/phased-return-to-research-activity/.
Meisner, Brad A., Veronique Boscart, Pierrette Gaudreau, Paul Stolee, Patricia Ebert, Michelle Heyer, Laura Kadowaki, et al. "Interdisciplinary and Collaborative Approaches Needed to Determine Impact of Covid-19 on Older Adults and Aging: Cag/Acg and Cja/Rcv Joint Statement." [In eng]. Canadian journal on aging = La revue canadienne du vieillissement 39, no. 3 (2020): 333- 43. https://doi.org/10.1017/S0714980820000203.
Moll, Sandra, Michelle Wyndham-West, Gillian Mulvale, Sean Park, Alexis Buettgen, Michelle Phoenix, Robert Fleisig, and Emma Bruce. "Are You Really Doing 'Codesign'? Critical Reflections When Working with Vulnerable Populations." BMJ Open 10, no. 11 (2020): e038339. https://doi.org/10.1136/bmjopen-2020-038339.
Richardson, Sarah J., Camille B. Carroll, Jacqueline Close, Adam L. Gordon, John O'Brien, Terence J. Quinn, Lynn Rochester, et al. "Research with Older People in a World with Covid-19: Identification of Current and Future Priorities, Challenges and Opportunities." Age and Ageing 49, no. 6 (2020): 901-06. https://doi.org/10.1093/ageing/afaa149.
Shore, Linda, Louise Kiernan, Adam DeEyto, Deirbhile Nic A Bhaird, Anne Connolly, P. J. White, Tracy Fahey, and Siobhan Moane. "Older Adult Insights for Age Friendly Environments, Products and Service Systems." Design and Technology Education: an International Journal; Vol 23 No 2 (2018): Design and Technology Education: An International Journal (07/03 2018). https://ojs.lboro.ac.uk/DATE/article/view/2327.
Steen, M., M. Manschot, and N De Koning. "Benefits of Co-Design in Service Design Projects." International Journal of Design, 5(2), 53-60. (2011). http://www.ijdesign.org/index.php/IJDesign/article/view/890/346.
Vrkljan, Brenda, Amanda Whalen, Tara Kajaks, Shaarujaa Nadarajah, P. J. White, Laura Harrington, and Parminder Raina. "Creating an Intergenerational University Hub: Engaging Older and Younger Users in the Shaping of Space and Place." Gerontology & Geriatrics Education (2019): 1-17. https://doi.org/10.1080/02701960.2019.1572010.
White, P. J., and Colin Deevy. "Designing an Interdisciplinary Research Culture in Higher Education: A Case Study." Interchange 51, no. 4 (2020/04/27 2020): 499-515. https://doi.org/10.1007/s10780-020-09406-0.
White, P. J., H. R. Marston, L. Shore, and R. Turner. "Learning from Covid-19: Design, Age-Friendly Technology, Hacking and Mental Models." Emerald Open Research 2, no. 22 (2020). https://doi.org/10.35241/emeraldopenres.13599.
White, P.J. "Designer as Ethnographer: A Study of Domestic Cooking and Heating Product Design for Irish Older Adults." PhD, National University of Ireland Maynooth, 2012. http://mural.maynoothuniversity.ie/4740/1/PhD%20Thesis_PJ%20White.pdf.
White, P.J., and Frank. Devitt. "Designing Personas from Design Ethnography and Grounded Theory." Journal of Usability Studies 16, no. 3 (2021). https://uxpajournal.org/personas-ethnography-grounded-theory/.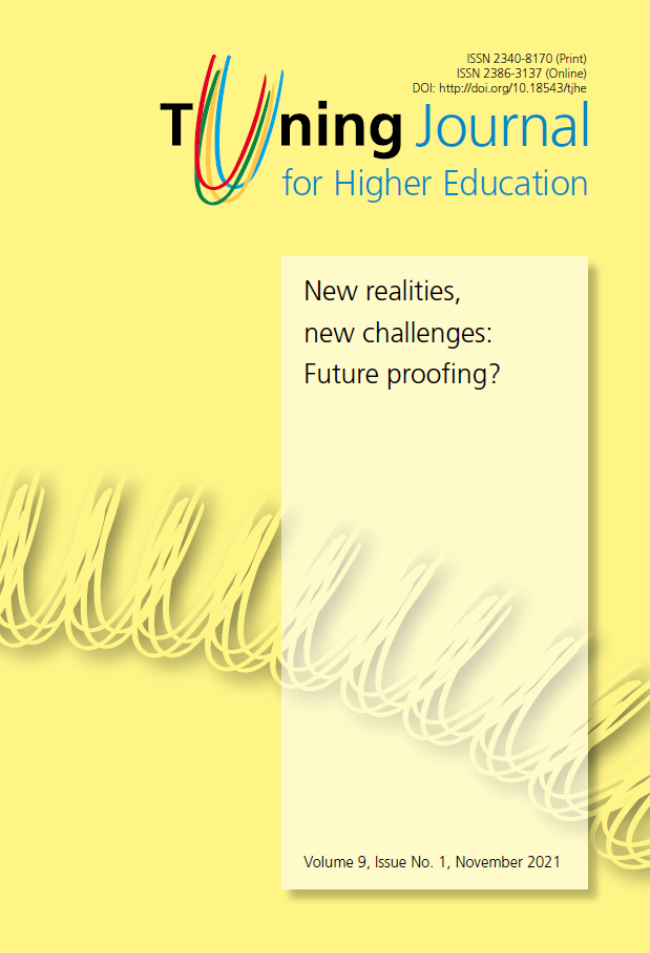 How to Cite
White, P.J., Gésine Alders, Audrey Patocs, and Parminder Raina. 2021. "COVID-19 and Interdisciplinary Research: What Are the Needs of Researchers on Aging?". Tuning Journal for Higher Education 9 (1), 239-63. https://doi.org/10.18543/tjhe-9(1)-2021pp239-263.
Authors are required to sign and submit a copyright transfer agreement after acceptance but before publication of their manuscript. To that effect, they receive, from the Managing Editor of Tuning Journal for Higher Education, a standard copyright assignment form designed along the following lines:
1. Authorship:
The author who signs the copyright transfer agreement must be the sole creator of the work or legally acting on behalf of and with the full agreement of all the contributing authors.
2. Copyright and Code of conduct:
a) Authors warrant that their work is original; has not been previously copyrighted or published in any form; is not under consideration for publication elsewhere; its submission and publication do not violate TJHE Ethical Guidelines for Publication and any codes (of conduct), privacy and confidentiality agreements, laws or any rights of any third party; and no publication payment by the Publisher (University of Deusto) is required.
b) Authors are solely liable for the consequences that may arise from third parties' complaints about the submitted manuscript and its publication in Tuning Journal for Higher Education (TJHE).
c) Authors grant to the Publisher the worldwide, sub-licensable, and royalty-free right to exploit the work in all forms and media of expression, now known or developed in the future, for educational and scholarly purposes.
d) Authors retain the right to archive, present, display, distribute, develop, and republish their work (publisher's version) to progress their scientific career provided the original publication source (Tuning Journal) is acknowledged properly and in a way that does not suggest the Publisher endorses them or their use of the wortk.
e) Authors warrant that no permissions or licences of any kind will be granted that might infringe the rights granted to the Publisher.
3. Users:
Tuning Journal for Higher Education is an Open Access publication. Its content is free for full and immediate access, reading, search, download, distribution and reuse in any medium or format only for non-commercial purposes and in compliance with any applicable copyright legislation, without prior permission from the Publisher or the author(s). In any case, proper acknowledgement of the original publication source must be made and any changes to the original work must be indicated clearly and in a manner that does not suggest the author's and or Publisher's endorsement whatsoever. Any other use of its content in any medium or format, now known or developed in the future, requires prior written permission of the copyright holder.