Democratisation of Teaching and Learning: a tool for the implementation of the Tuning Approach in Higher Education?
Jane Iloanya

Botho University, Botswana
Keywords:
democratisation, higher education, learning, teaching, tuning approach
Abstract
Teaching and learning in Contemporary Higher Education is experiencing a change of paradigm in the approach used for curriculum design and instruction. This paper examines the application of democratisation of teaching and learning as a crucial tool for the implementation of the Tuning Approach in the teaching and learning processes in higher education. A qualitative research approach was used to collect information from two institutions of higher learning in Botswana. Findings from the study indicate, that, there are democratic elements in the teaching and learning processes as evidenced by the use of the learning –outcomes approach in lesson planning by the lecturers, and in the various ways students are engaged in teaching and learning processes. However, the study revealed that students are not fully involved in planning curriculum and workload.
Published online: 31 May 2017
Downloads
Download data is not yet available.
References
Ayer, Jules. "The problem of knowledge, and probability and evidence." British Journal for the philosophy of science 49, no. 1 (2004): 89-121.
Benhasib, Sayla. Democracy and difference: contesting the boundaries of the political. Princeton: Princeton University Press, 1996.
Republic of Botswana. Education for Kagisano: Report of the national policy on education. Gaborone: Government printer, 1977.
Chilisa, Bagele, and Julia Preece. Research methods for adult educators in Africa. Cape Town: CTP book printers, 2005.
Cook-Sather, Alison, and Praise Agu. "Students consultants of colour and faculty members working together toward culturally sustaining pedagogy." In To improve the academy. Resources for faculty, instructional, and organisational development, edited by James E. Groccia and Laura Cruz, 271-85. San Francisco: Jossey-Bass, 2013.
Cook-Sather, Alison, Catherine Bovil, and Peter Felten. Engaging students as partners in teaching and learning: A guide for faculty. San Francisco: Jossey- Bass, 2014.
Creswell, John. Qualitative inquiry and research design: Choosing among five traditions. Thousand Oaks, California: SAGE Publications, 2013.
Cristea, Alexandra I., and Ghali Fawaz. "Towards adaptation in e-learning 2.0." New Review of Hypermedia and Multimedia, 17, no. 2 (2011): 199-238.
Croxon. D. "Fair go with web 2.0: Effective strategies for the democratisation of learning and teaching process using web 2.0 technologies." Macquarie Matrix: special edition, 4, no. 1 (2014). http://studentjournal.mq.edu.au/issue4_1.html.
Dunne, Elisabeth, and Roos Zandstra. Students as change agents – new ways of engaging with learning and teaching in higher education. Bristol: A joint university of Exeter/Escalate/Higher Education Academy Publication, 2011.
Gardebo, Johanne, and Matthias Wiggberg, eds. Students the university's unspent resource: Revolutionising higher education through active student report series. Upsala: Upsala University, 2013. Accessed October 06 2016. http://www.uadm.uu.se/upi/arkiv/rapporter/Rapport12pdf.
Hatch, Trish A. Professional challenges in school counselling: organization, institutional and political. San Diego State University, 2002.
Higher Education Academy and National Union of Students. "Student Engagement Toolkit." Accessed October 10, 2016. http://www.nusconnect.org.uk/Student.
Healey, Mick,; Abbi Flint, and Kathy Harrington. Engagement through partnership: students as partners in learning and teaching in higher education. York: The Higher Education Academy, 2014.
Iloanya, Jane E. "The Actualisation of Botswana's Philosophy of Education through the Basic Education System." PhD Thesis., University of Botswana, 2010.
Kitsanta, Anastasia, and Nada Dabbagh. "The role of web 2.0 technologies in self-regulated learning." New Directions for teaching and learning 126 (2011): 99- 106. Accessed October 13, 2016. http://onlinelibrary.wiley.com/doi/10.1002/tl.448/abstract.
Lesnick, Aice, and Alison Cook –Sather. "Building Civic Capacity and Responsibility through a Radically Inclusive Teaching and Learning Initiative." Innovative Higher Education 35 (2010): 3-17.
Lincoln, Yvonna, and Egon Guba. Naturalistic inquiry. Beverly Hills, C.A: Sage Publications. Inc, 1985.
Mclaughlin, Terrence. "Philosophy and educational policy: possibilities, tensions and tasks." Journal of Education policy 15, no. 4 (2000): 441-457.
Nygard, Claus, and Clive Holtham. Understanding Learning-Centred Higher Education. Denmark: Narayana Press, 2010.
Rubin, Herbert .J, and Rubin, Irene .S. Qualitative interviewing: The art of learning data. 2nded. Thousand Oaks, CA: Sage, 2005.
Siemens, George. "Connectivism: A learning theory for the Digital Age." 2005. Accessed from: http://www.itdl.org/journal/jan_05/article01.htm.
Soohoo, Suzaane. "Students as partners in research and restricting schools." The Educational Forum 57, no. 4 (1993): 386-93.
Sulisworo, Dwi. "Designing the online collaboration learning using the wikispaces." International Journal of emerging Technologies in learning 7, no. 1 (2012): 58-61.
Wagenaar, Robert. "Learning outcomes. A fair way to Measure Performance in Higher Education: The Tunning Approach." 2008. http://www.rug.nl/let/tuningeu.
Welsh Government. "Policy Statement on higher education." 2016. wales.gov.uk/topics/education and skills/higher education policy statement.
Young, Robert. A Critical theory of education: Habermas and our children's future. Sydney: Harvester Wheatsheat, 1989.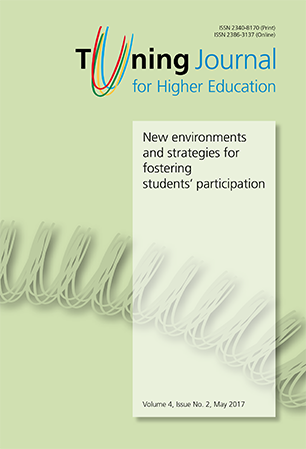 How to Cite
Iloanya, Jane. 2017. "Democratisation of Teaching and Learning: A Tool for the Implementation of the Tuning Approach in Higher Education?". Tuning Journal for Higher Education 4 (2), 257-76. https://doi.org/10.18543/tjhe-4(2)-2017pp257-276.
Authors are required to sign and submit a copyright transfer agreement after acceptance but before publication of their manuscript. To that effect, they receive, from the Managing Editor of Tuning Journal for Higher Education, a standard copyright assignment form designed along the following lines:
1. Authorship:
The author who signs the copyright transfer agreement must be the sole creator of the work or legally acting on behalf of and with the full agreement of all the contributing authors.
2. Copyright and Code of conduct:
a) Authors warrant that their work is original; has not been previously copyrighted or published in any form; is not under consideration for publication elsewhere; its submission and publication do not violate TJHE Ethical Guidelines for Publication and any codes (of conduct), privacy and confidentiality agreements, laws or any rights of any third party; and no publication payment by the Publisher (University of Deusto) is required.
b) Authors are solely liable for the consequences that may arise from third parties' complaints about the submitted manuscript and its publication in Tuning Journal for Higher Education (TJHE).
c) Authors grant to the Publisher the worldwide, sub-licensable, and royalty-free right to exploit the work in all forms and media of expression, now known or developed in the future, for educational and scholarly purposes.
d) Authors retain the right to archive, present, display, distribute, develop, and republish their work (publisher's version) to progress their scientific career provided the original publication source (Tuning Journal) is acknowledged properly and in a way that does not suggest the Publisher endorses them or their use of the wortk.
e) Authors warrant that no permissions or licences of any kind will be granted that might infringe the rights granted to the Publisher.
3. Users:
Tuning Journal for Higher Education is an Open Access publication. Its content is free for full and immediate access, reading, search, download, distribution and reuse in any medium or format only for non-commercial purposes and in compliance with any applicable copyright legislation, without prior permission from the Publisher or the author(s). In any case, proper acknowledgement of the original publication source must be made and any changes to the original work must be indicated clearly and in a manner that does not suggest the author's and or Publisher's endorsement whatsoever. Any other use of its content in any medium or format, now known or developed in the future, requires prior written permission of the copyright holder.